Introducing The Gateway Go Card
The Gateway Go Card is an exciting new option to make it easier for young people in the bi-state region to take Metro Transit to get where they need and want to go this summer.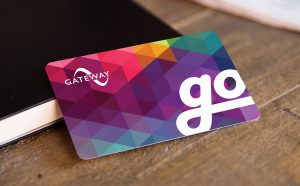 It's about connecting young people to more opportunities. Investing in our youth is important for the future of our region, and all of the partners in this pilot program are committed to improving the quality of life for young people in our community.
Transportation is a vital link to jobs, schools, health care, healthy food options, and better wages. Providing access to transit through reduced fares means access to opportunities. When we work together, we make it easier for young people to pursue their dreams and to pave the way for successful lives and careers.
The Gateway Go program will run from June 1 to October 31 and is made possible through a partnership between the City of St. Louis, St. Louis County, St. Clair County Transit District, St. Louis Economic Development Partnership, Metro Transit and Bi-State Development.
The special pass will offer mobility and new opportunities through public transit for youth ages 13 to 25 at half the normal price.
Where can I get my Gateway Go Card?
The cards will soon be available at the following locations, all accessible via the Metro Transit system:
MetroStore is located at 8th and Pine in downtown St. Louis
Near the 8th and Pine MetroLink Station
Metro Transit Access Center at 317 DeBaliviere
North of the Forest Park-DeBaliviere MetroLink Station
After presenting proof of age (driver's license, state ID, school ID, birth certificate or passport) riders will receive a Gateway Go Card that they or their parents can use to load money onto the card to ride Metro Transit or to purchase 50 percent discounted Metro fares for:
Monthly transit passes ($39)
2 hour passes ($1.50)
One-ride passes ($1 MetroBus | $1.25 MetroLink)
In addition to the two Metro Transit locations, the Gateway Go Card will also be issued at the Gateway Info Bus which will be visiting summer festivals, events and community centers around the bi-state region.
Organizations that serve young people may schedule the Gateway Info Bus to come to their location by calling 314-982-1500 or 618-274-1500, or by e-mail at mygatewaycard@metrostlouis.org.
Gateway Info Bus – Event Schedule
Stop by the Gateway Info Bus at any of the times and locations listed below, sign up for the Gateway Go Card, and start taking advantage of a 50 percent discount on the Metro Transit system.
Friday, July 20
4-6 pm
Grand MetroLink Station
Thursday, July 19
4-6 pm
North Hanley MetroLink Station
Tuesday, July 31
10am – 2pm
Boyle Avenue just north of the Cortex Station
Rules for Riding
If you're new to the Metro transit system, here are some quick tips and guidelines you can use to be a great transit rider:
Eating and drinking are not allowed on MetroBus, MetroLink or Metro Call-A-Ride
Smoking (including e-cigarettes) is prohibited on all Metro vehicles and on MetroLink platforms, and is not allowed at the Civic Center Transit Center
All weapons and firearms are prohibited on Metro vehicles, on MetroLink platforms and at Metro Transit Centers
Use headphones or ear buds when listening to music
Allow disabled and elderly passengers to use priority seating
Only service animals accompanying customers with disabilities can travel on Metro transit vehicles, and they do not need to be in a pet carrier
It's easy to be courteous to your fellow passengers. Just remember, don't be that guy.