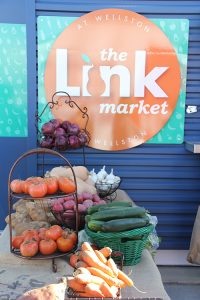 In today's fast-paced world, it isn't always easy to stop for groceries or pick up a few ingredients on the way home for dinner. Now, Metro riders have a quick and convenient resource to fill up their pantry with fresh, healthy food.
The new Link Market food kiosks, located at the North Hanley and Wellston Transit Centers, offer transit riders the chance to purchase fresh fruits, vegetables, bread, milk, meat and other healthy household staples at great prices.
The Link Market food kiosk pilot program is the result of a partnership with the Bi-State Development Research Institute, a non-profit enterprise of Bi-State Development, and the Missouri Foundation for Health, which is funding the 18-month pilot program.
The Link Market is open Monday through Friday, 9 a.m. to 5 p.m., at the North Hanley and Wellston Transit Centers. Cash, credit and EBT payments are accepted.
As part of the program, nutritionists at the University of Missouri Extension will provide education sessions at the Wellston and North Hanley Transit Centers to promote healthy eating. Visitors can enjoy cooking demonstrations, ask questions and learn more about the importance of proper nutrition and how to incorporate fruits and vegetables into their diets while on a budget.
Recipes from past demonstrations, include: