Metro Transit Information

314-231-2345 or 618-271-2345 (PHONE)
or 314-207-9786 (TEXT)
transitinformation@metrostlouis.org
Transit Information experts can help you plan your journey on Metro and provide information on schedule times, transfers and walking directions. They are available Monday through Friday, 7 a.m. to 6 p.m.
Metro On The Go Mobile App
Download the Metro On The Go app to your Apple or Android device, and access real-time information, the Metro Trip Planner and MetroBus and MetroLink schedules — all from the palm of your hand.
Real-Time MetroBus Information Available by Phone, Text or Email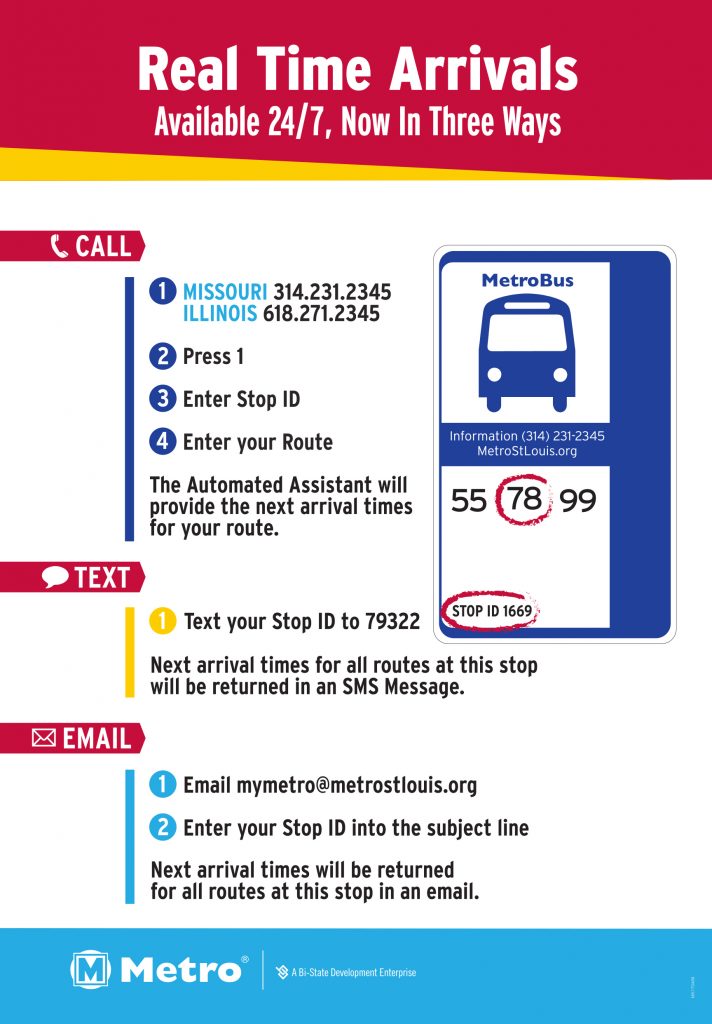 Wondering when a MetroBus will be pulling up to your stop? You can get real-time arrival times and transit information 24/7, from anywhere and from any device.
By Phone
Call Metro Transit Information at 314-231-2345 or 618-271-2345 and press 1 to use the automated system.
Enter your MetroBus Stop ID number, and the automated system will tell you the next three real-time arrival times for your MetroBus route at that stop. It will also let you check on any Rider Alerts impacting bus routes serving that stop.
Stop ID number can be found in the bottom left corner on every MetroBus stop sign in the region.
By Text Message (SMS)
Locate your Stop ID number on the MetroBus sign. The Stop ID number is the four or five-digit number located on the bottom left of the bus sign. Text your Stop ID number to 79322. After about a minute, you will receive the next three real-time arrival times for bus routes serving that stop.
If a route has an active Rider Alert, it will be noted with an asterisk and you can access a link to learn more.
For a bus stop that serves multiple MetroBus routes, you can choose a particular route using a simple text feature. For example, if the Stop ID number at 2800 serves the #46 Tesson Ferry and the #110 Affton MetroBus routes, but you only need the next three arrival times for the #46 Tesson Ferry route, simply text 2800-46 to receive trip information for that route. This feature also works at MetroLink stations and Metro transit centers.
By Email
Email notifications work similar to the text feature, but provide additional trip information.
First, send an email message to mymetro@metrostlouis.org, and enter your Stop ID number in the subject line. The Stop ID number is the four or five-digit number on the bottom left of the bus sign. After a few minutes, you will receive an email detailing the schedule and estimated arrival times for that specific bus stop. Estimated real-time arrival times are color-coded per the MetroBus status of arrival (RED – the bus is behind schedule; BLACK – the bus in on schedule; GREEN – the bus is ahead of schedule).
Trip Planner

Visit the Trip Planner on your mobile device or desktop, enter your trip data and let the planner do the rest.