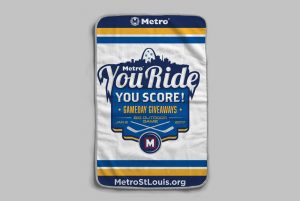 The exhilaration of one of hockey's most premier events is taking place January 2 at Busch Stadium. And when you ride MetroLink to the event, you score!! MetroLink helps you score with the easiest, most efficient and affordable way to get downtown to enjoy all the excitement and activities the big outdoor game has to offer.
Plus, the first 2,500 fans who ride MetroLink to Busch Stadium Station, January 2, starting at 10:00 am, get a FREE blue & yellow commemorative 11 x 17 rally towel* so you can cheer the Blues to victory! It's that easy.
You Ride, You Score Gameday Giveaways FAQ's
Q: How do I take advantage of this promotion?
A: In order to qualify, just be one of the first 2,500 to ride MetroLink to the Stadium Station on January 2, 2017 starting at 10:00AM.
Q: Will I need a special ticket or coupon to receive rally towel?
A: No, just be one of the first 2,500 fans to arrive at the Stadium Station starting at 10:00AM.
Q: Where do I pick up my rally towel?
A: Metro ambassadors will be located at the exit of Stadium Station beginning at 10 am.
Q – How do I purchase a MetroLink ticket.
A – Visit the How To Ride page on the Metro website – Click Here
*Rally towels are available on a first come, first serve basis while supplies last. Limit one towel per person.