March 14, 2013
10.5 Billion Trips Taken on U.S. Public Transportation in 2012, Ridership Up Slightly Across St. Louis Area
Return to Blog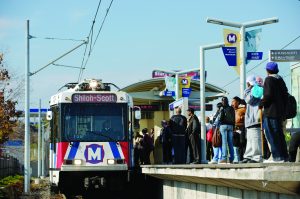 Did you take public transit in St. Louis or in other cities last year? If you did, then you were a part of the 10.5 billion trips taken on U.S. Public Transportation in 2012.
According to a recent report released by the American Public Transportation Association (APTA), the demand for public transportation rose last year to the second highest ridership since 1957, and 154 million more trips than in 2011. This was the seventh year in a row that more than 10 billion trips were taken on public transportation systems nationwide.
"Every mode of public transportation showed an increase in ridership.  Public transit ridership grew in all areas of the country – north, south, east, and west — in small, medium and large communities, with at least 16 public transit systems reporting record ridership," said APTA President and CEO Michael Melaniphy.
"Two big reasons for the increased national transit ridership are high, volatile gas prices and in certain localities, a recovering economy with more people returning to work," said Melaniphy. "Also, since nearly 60 percent of trips taken on public transportation are for work commutes, it makes sense that ridership increases in areas where the economy has improved and new jobs have been added."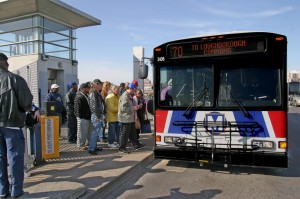 APTA reported light rail ridership across the U.S. increased 4.5 percent, heavy rail ridership increased by 1.4 percent and commuter rail ridership increased by 0.5 percent in 2012.
In the last six months of 2012, MetroLink passenger boardings were up one and a half percent over the same period the year before.
Large bus systems reported an increase of 1 percent nationally, and 29 out of 38 large bus systems reported increases, according to APTA.
In the last six months of 2012, MetroBus recorded a 4 percent increase in passenger boardings over the same period the year before.
APTA reported demand response (paratransit) ridership increased in 2012 by 4.5 percent and trolleybus ridership increased by .24 percent across the country.
In the Bi-State region, Metro Call‑A‑Ride (paratransit) reported a 2.8 percent passenger boarding increase for the second half of 2012, compared to the last six months of 2011.
Click here to see the complete APTA 2012 ridership report.
Return to Blog