June 17, 2014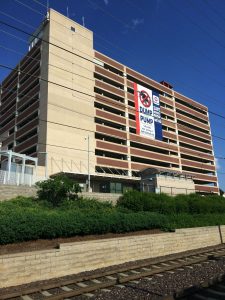 Metro transit is joining more than 100 public transit systems around the country this Thursday to participate in the National Dump the Pump Day.
This national public transportation awareness day encourages people to "dump the pump" by parking their cars and riding public transit instead. Dump the Pump is sponsored by the American Public Transportation Association, in partnership with the Sierra Club and the Natural Resources Defense Council.
As part of Dump the Pump Day, Metro transit will announce the three winners of its photo contest  which depict how people save money on gasoline by taking transit to Live, Work and Play in the region. Winners will each receive two St. Louis Cardinals tickets. (You can still vote for your favorite image by liking the photo on our Facebook page. Voting ends tomorrow.)
Dump the Pump is a perfect day to give public transportation a try. If you need some convincing, here are a few stats to send your way:
Households that are likely to use public transportation on a given day save more than $9,700 every year.
Public transportation saves the United States 4.2 billion gallons of gasoline annually.
Households near public transit drive an average of 4,400 fewer miles than households with no access to public transit. This equates to an individual household reduction of 223 gallons of gas per year.
The national average for a monthly unreserved parking space in a downtown business district is $166.26, according to the 2012 Colliers International Parking Rate Study.  Over the course of a year, nationally parking costs for a vehicle can amount to an average of $1,995.
Communities that invest in public transit reduce the nation's carbon emissions by 37 million metric tons annually.
The price of gas, the cost to park, vehicle maintenance and insurance are costing us more money than ever. If you are still on the fence about giving us try, enter your personalized travel routine into our fuel savings calculator and find out how much money you could save by taking Metro.
Return to Blog