July 31, 2020 | 0 Comments
#76 McDonnell-Waterford to be Rerouted for 18 Months
Return to Blog
Beginning on Monday, August 3, the #76 McDonnell-Waterford MetroBus route will not be able to serve Pershall Road between Ford Lane and Graham Road due to the I-270 North Project. The #76 McDonnell-Waterford will be rerouted for the duration of the MoDOT construction project, which is scheduled to take 18 months.
During this period, you can use Metro's partnership with Lyft to travel to and from areas near this closed section of Pershall Road with special $1 Lyft rides.
Download the Lyft app and use promo code METROCONNECT19 to be eligible for $1 Lyft rides to and from areas within 500 feet of the orange-highlighted streets in the map below, which includes connections to the #76 McDonnell-Waterford and #77 Village Square routes. The special $1 cost will automatically be applied to all eligible trips.

If you need assistance or do not have access to the Lyft app, you can set up your trip by contacting Metro Transit Information, available Monday through Friday from 7 a.m. to 6 p.m. at 314-207-9786 (text) or 314-231-2345 (phone). Click here for more information about our partnership with Lyft, and to learn about other areas eligible for $1 Lyft trips.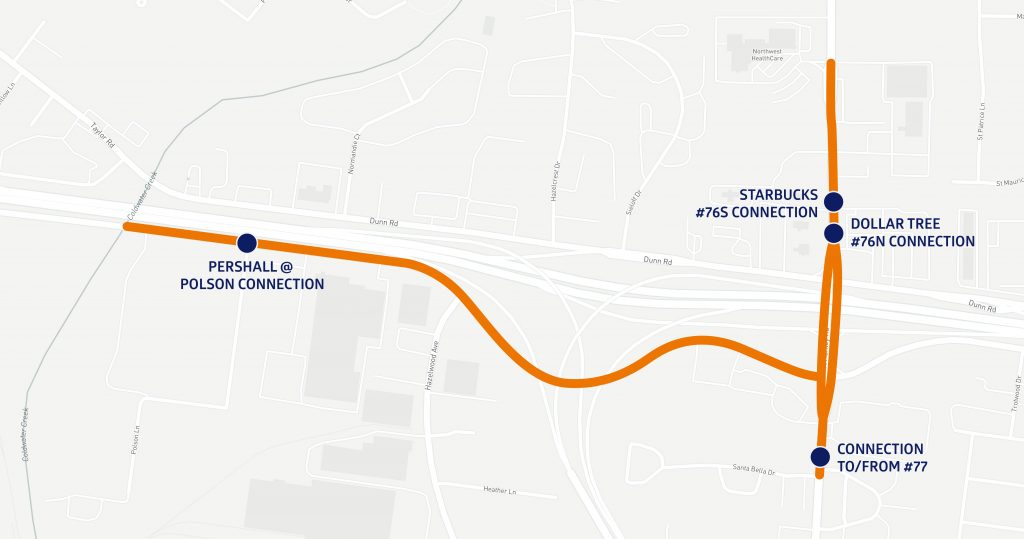 Return to Blog
Categories:
Rider Alert