December 4, 2012
Celebrate The Season On The Rails and at Several MetroLink Stations and Transit Centers
Return to Blog
UPDATE: Crossroads College Prep Jazz Ensemble will no longer be able to perform on Thursday December 6 or December 13.
This warm weather may have you thinking differently, but 'tis the holiday season! Metro has some awesome musical acts lined up to brin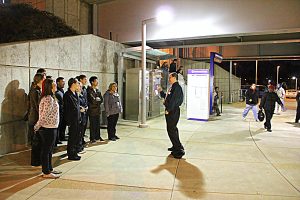 g the holiday spirit to a Metro Transit Center or MetroLink Station near you!
Bayless High School's Xpression group kicked the series off last Thursday, delighting rush hour commuters at the Shrewsbury Transit Center with holiday carols. It's pretty hard to be Grinch-like with high spirit from students!
Celebrate the Season Concert Series features two performances this week. Take advantage of the warm weather and catch a performance during your lunch hour or on the rails on Saturday.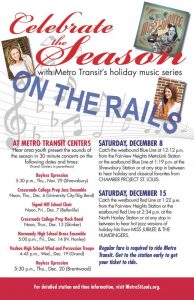 On Friday at noon, 40 students in the Signal Hill Middle School Choir will sing carols at the Belleville MetroLink Station.
On Saturday, the Chamber Project St. Louis will perform on board the Holiday Magic Train on the Blue Line, departing from the Fairview Heights MetroLink Station at 12:12 p.m. and returning at 2:11 p.m. With your Metro pass or valid fare, you can stay on the Holiday Magic Train for the entire show or make it part of your Saturday outing by catching the train at any stop along the route. (See where to catch the train below.)
Don't miss out on some holiday cheer this year!
| | | |
| --- | --- | --- |
|          Sat. Dec. 8                 Chamber Project St. Louis | Westbound  (P.M.) | Eastbound (P.M.) |
| | | |
| Fairview Heights | 12:12 | 2:11 |
| Washington Park | 12:17 | 2:06 |
| Jackie Joyner-Kersee Center | 12:20 | 2:03 |
| Emerson Park | 12:22 | 2:01 |
| 5th & Missouri | 12:25 | 1:58 |
| East Riverfront | 12:28 | 1:55 |
| Arch-Laclede's Landing | 12:30 | 1:53 |
| Convention Center | 12:31 | 1:52 |
| 8th & Pine | 12:33 | 1:50 |
| Stadium | 12:34 | 1:49 |
| Civic Center | 12:36 | 1:47 |
| Union Station | 12:37 | 1:46 |
| Grand | 12:41 | 1:42 |
| Central West End | 12:44 | 1:39 |
| Forest Park-DeBaliviere | 12:47 | 1:36 |
| Skinker | 12:49 | 1:34 |
| University City/Big Bend | 12:51 | 1:32 |
| Forsyth | 12:53 | 1:30 |
| Clayton | 12:54 | 1:29 |
| Richmond Heights | 12:56 | 1:27 |
| Brentwood-I-64 | 12:58 | 1:25 |
| Maplewood-Manchester | 1:00 | 1:23 |
| Sunnen | 1:01 | 1:22 |
| Shrewsbury | 1:04 | 1:19 |
Return to Blog
Categories:
Arts in Transit
,
Metro Lifestyle