September 24, 2012
A Candid Talk With Metro's New Chief of the Department of Public Safety: Richard Zott
Return to Blog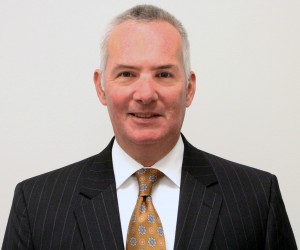 Richard Zott is the new Chief of Metro's Department of Public Safety. He joined Metro three and a half months ago. Prior to Metro, he was the Special Agent in Charge of the Central Field Office in St. Louis for the Defense Criminal Investigative Service (DCIS) which is part of the U.S. Department of Defense.
We sat down with him recently to talk about his background, his experiences so far at Metro, and his goals for passenger safety, among other topics.

After being a federal agent for 25 years, what made you want to work for Metro?
I had gone as high as you could go without going to Washington D.C. and I didn't want to do that.  I really like being at the ground level. I like being on the street.
I love the City of St. Louis and the surrounding area. I think that it is a good city, and any good city needs a good public transit system. Going through my first interview, it was apparent Metro management wanted to change the perception about safety and security. I thought this would be a great job to become chief of security and make Metro the safest system in the country. I thought with my background and experience on the law enforcement side, and the strong desire to make Metro a more secure and an even better place, I thought this would be the perfect place to come to work.
What has surprised you most about Metro?
I was surprised how everybody has been very welcoming and very friendly and very open. You know they say your job is your family. That's very true. I haven't met anyone that I just don't like, and I've met a lot of people. And, I absolutely love talking to the bus drivers and the train operators.
It's a good fit for you?
Yes. The senior staff at Metro understands the importance of security. They've been extremely supportive. We've had some very candid discussions about our goals to move performance to the next level. That's exciting, too, because I think in the next few years you're going to see a lot of changes. We want to bring on some more people, bring on young aggressive people. We also want to diversify our work force to make it more reflective of the people we serve in the community.
What do you see as the strengths in your Department of Public Safety?
Among our strengths, first of all, is our people. Dedicated people. They are former law enforcement officers. Some of them are certified police officers. I think a strength that we have is that we all understand the end goal and that's to increase the awareness of our safety and security and to try to change the perception. There are people who think our system is not that safe. I beg to differ. I've been traveling a lot in my lifetime. Nothing is 100 percent, but I think we have a very safe system. We've got layered security, concentric security. We have guards on the platforms and officers on the trains. We have police officers, city and county officers from Missouri and Illinois helping with our security enforcement. I don't think you see that in many transit systems throughout the nation. The other thing we have is a very sophisticated monitoring system; a camera system where our dispatchers constantly monitor the platforms and the trains. There are cameras on the buses as well. I think the fact that we have professionals, who are well-trained and have been around for a while is another strength for us.
You are building bridges and forming cooperative relationships with municipalities along our MetroLink alignment and our MetroBus and Call‑A‑Ride service area. Talk a little bit about what your goal is there and how that is going.
Before I came to Metro, when I was a federal agent, I worked a lot with the various police departments along the alignment. Now, this is a different situation, but it's still a professional law enforcement relationship reaching out again to explain the mission of Metro. A lot of people know what Metro is conceptually, but they don't understand a lot about how we operate, our public safety department, how we contract with various law enforcement agencies. I'm going out to reacquaint myself with the various police department chiefs throughout our area and discuss Metro and also seek their cooperation and their input on how we can make it an even better system.
What do you want the public to know about Metro and public safety?
I want the citizens of the area to know that this is a partnership that Metro has with them. We take our job very seriously. We want to provide the best security that is possible to the people of the community. I want people to be safe and to feel safe, and when they don't feel safe, I really want to know about it and how we can improve.
Your background is military and federal law enforcement. How has that prepared you for your role at Metro?
The one lesson I've learned probably more than any other lesson I keep in mind is that I don't have all the answers. When I was in Iraq, I worked with various task forces. We had people in Special Forces and other specialized units. We had the Brits, Czechs, Australians, Italians, Iraqis, and many, many other people from different countries all coming together. It was amazing to listen to how they approached problems and get their perspectives on things. Sometimes it was 180 degrees opposite of what I would have said to approach a problem. But, when we listened– and I listened– oftentimes it made a lot of sense to try to solve the problem their way to be successful. I don't have all the answers. One thing I do know is if you surround yourself with the best people possible, and that means a diverse group of people, you'll get good input. And, with good input, you'll make good decisions.
What do you want the St. Louis area community to know about what you and your team are doing?
Working together, the community and Metro, we can all make a difference. I'm amazed at just how generous our employees are at Metro. I've watched bus drivers go out of their way to help people. I've watched Transit Service Managers take time to explain to passengers how a ticket vending machine works. You don't see that kind of behavior in an organization unless it's a high-performing one.
We take our responsibility to provide for the safety and security of our passengers very seriously. Incidents that occur on our system are not just a Metro problem. They're not only a city problem or a county problem. It's all of our problem. Working together with good minds and good communications, we can accomplish anything we want in this region.
Return to Blog