June 26, 2009
That's what Ray Friem, our Chief Operations Officer of Transit Services, called it this morning at the Metro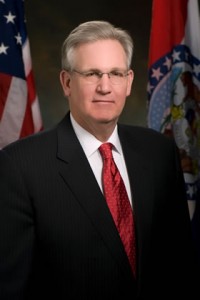 Board meeting. He was referring to news that GovernorNixon signed the state's budget into law yesterday. In this budget is $12 million in emergency funding to help Metro restore some of the service unfortunately lost in March. This means that we can move forward with restoring service on August 3rd.
Governor Nixon deserves a big "thank you" card for recognizing the importance of the funding Metro, even (or especially) in tough economic times. He kept this money in the budget, he said, because it was essential to help people get to their jobs.
In other (also good) news, some federal funding became available for Metro this week as well.  Legislation passed this week in Washington that allows us to use 10% of funding from the stimulus package to fund operations. Originally, this money only went to cover capital improvements, i.e. building stuff, instead of operations, i.e. buying gas and paying bus operators. This will allow Metro to apply up to $4.1 million toward restoring transit service.
Also, the Federal Transit Administration (FTA) announced this week that $7.5 million in federal funding will also be provided to Metro over the next two years.
So what does this mean for you? We will go ahead with the transit service restoration plan later this summer. This plan restores a little over a third of what was cut in March, especially to areas that lost service completely. See Courtney's earlier post about the restoration plan for details, or read the updated version, which was created in response to customer comments.
I hope your week was this good. Happy Friday.
Return to Blog