January 11, 2012
A Visit From Rhythm & Rails (or Twas Music on The Holiday Magic Train)
Return to Blog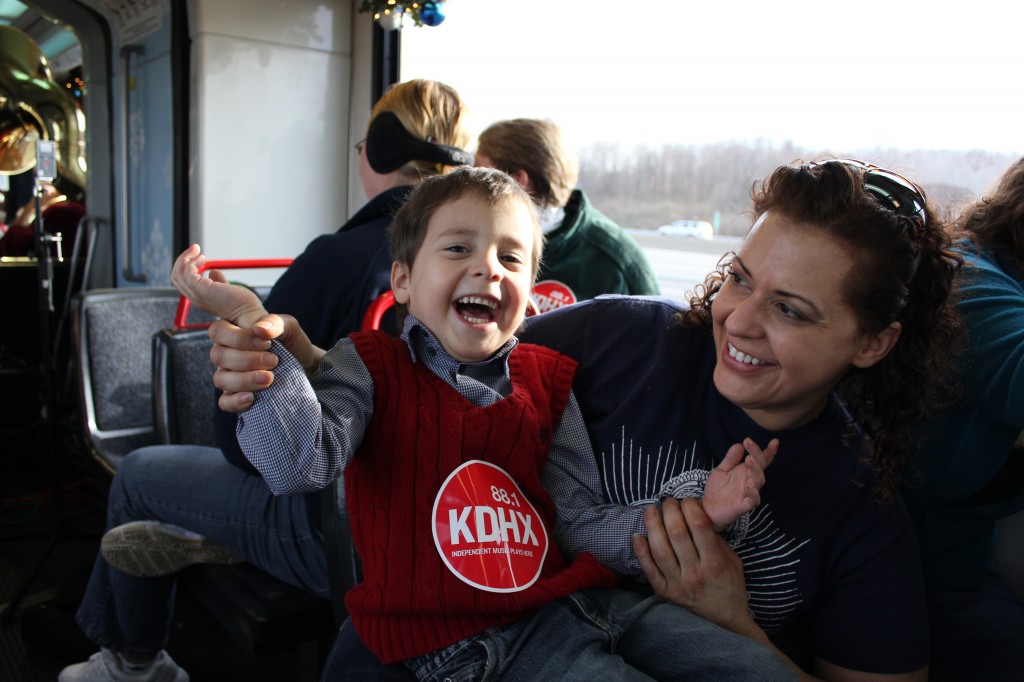 Twas the weekend before Christmas, and all through the tracks
Many riders were waiting, red cheeks and backpacks
For garland was hung from the overheads with care,
The Holiday Magic Train soon would be there!
Then, out on the platform there arose such a clatter,
We sprang from the bench to see what was the matter.
Toward the open doors we flew like young deer,
Stepped onto the train and rubbed our cold ears.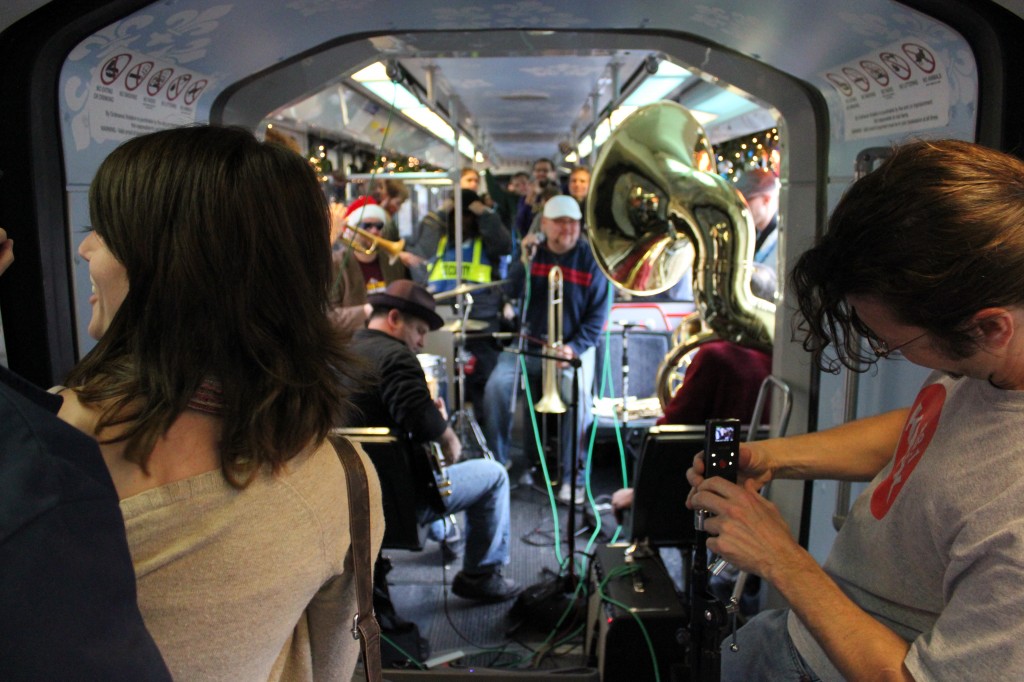 The twinkling white lights, holiday paper ceiling to floor
Gave the spirit of the holidays to riders on board
And, what did we find, just past the train door,
But a six-piece brass band, snare drum and more.
With a driver whose warm voice did explain
I knew in a moment this must be our train!
Jollier than jelly, his announcements they came,
Introduced the band and called them by name!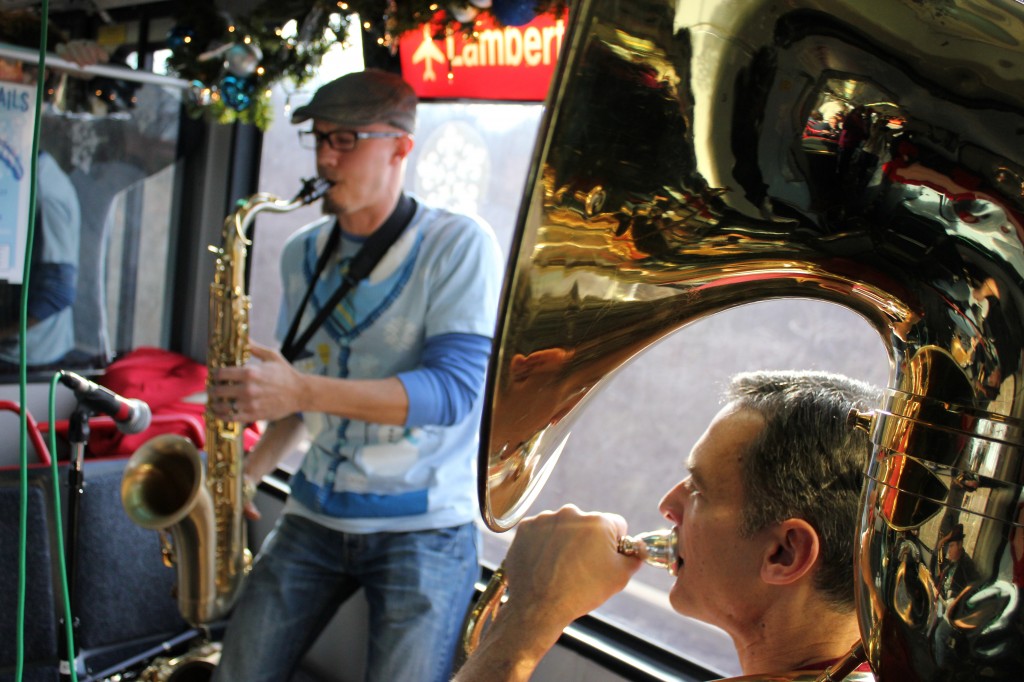 "Now Tuba! Now Drum! Now, Trumpet! Now Saxophone!
On, Trombone! On Guitar! On Cymbals! On Sousaphone!
To the end of the alignment! To the end of Red Line!
Now play away! Sing away! And have a good time!"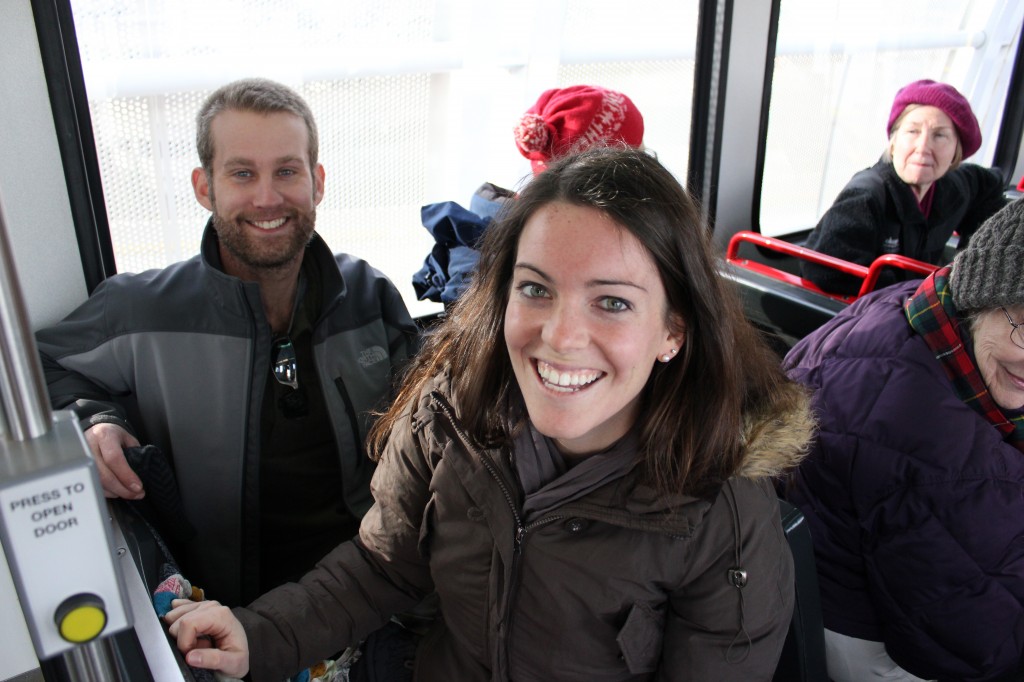 As warning whistles before the rushing train fly
Sounds of FB Brass Band, did mount to the sky
So all through Red Line the music did play
For happy children and families traveling their way.
And then, on Sunday came more tidings of yule
The strums and the twangs of St. Louis Folk School.
Great musicians of traditional Americans sounds
Played on the Blue Line, Shrewsbury bound.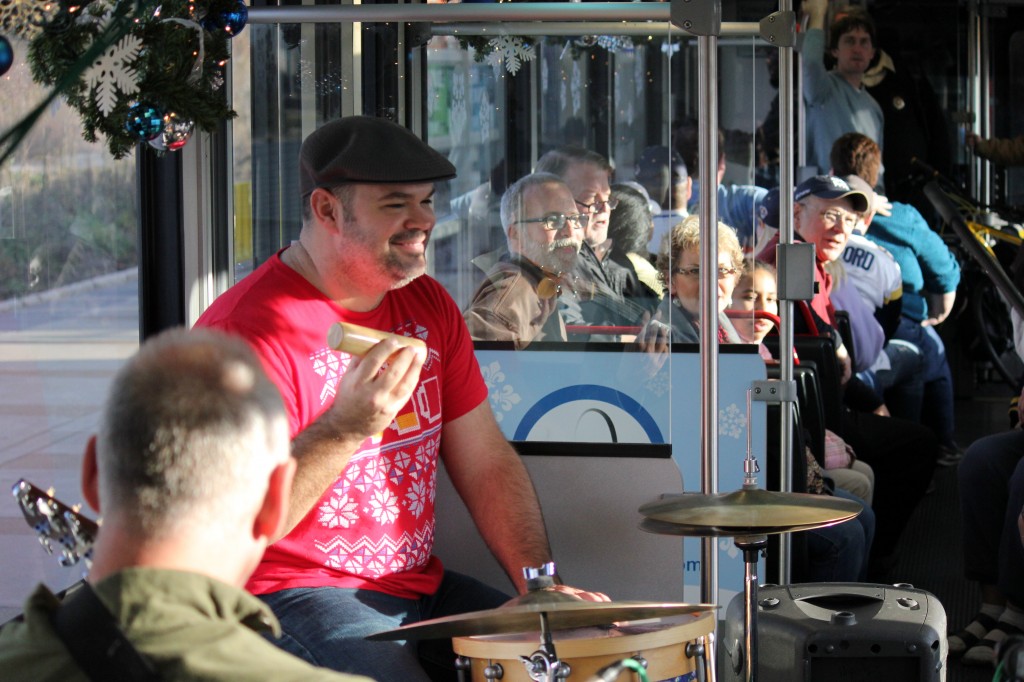 They strummed on the guitar, they picked the banjo,
They plucked on the fiddle, they played the dobro.
A gaggle of close friends, cheered from the seats,
With the riders aboard, tapping their feet.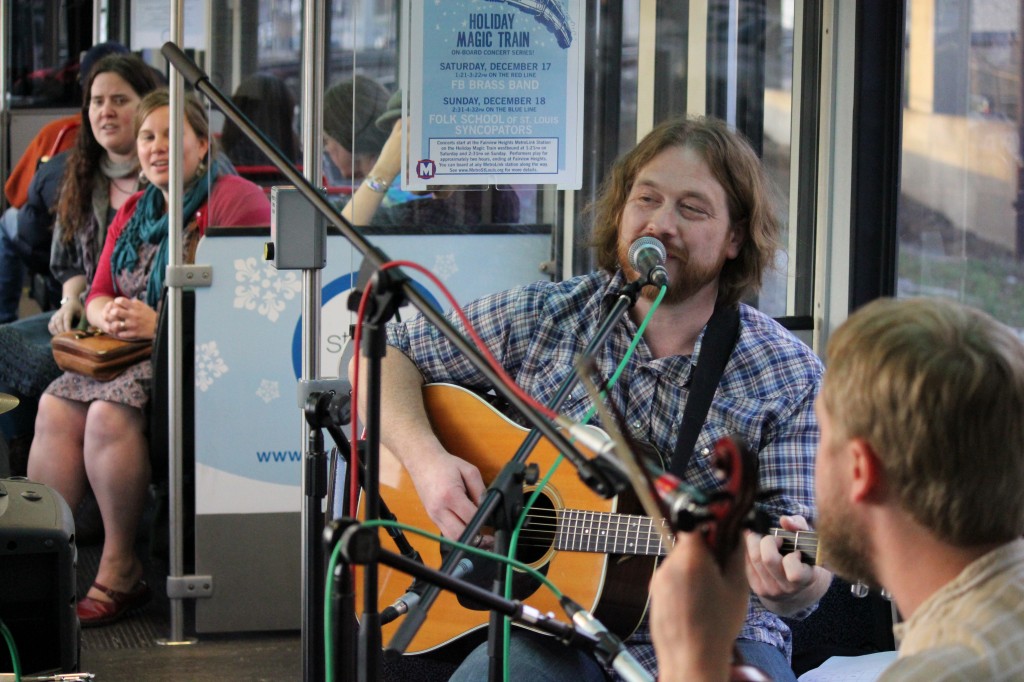 The lovers how they drew close! The children how they smiled!
The older riders how they sang along, wide-eyed like a child
All enjoying songs of the St. Louis music scene,
With the snowflakes made up of white fleur-de-lis.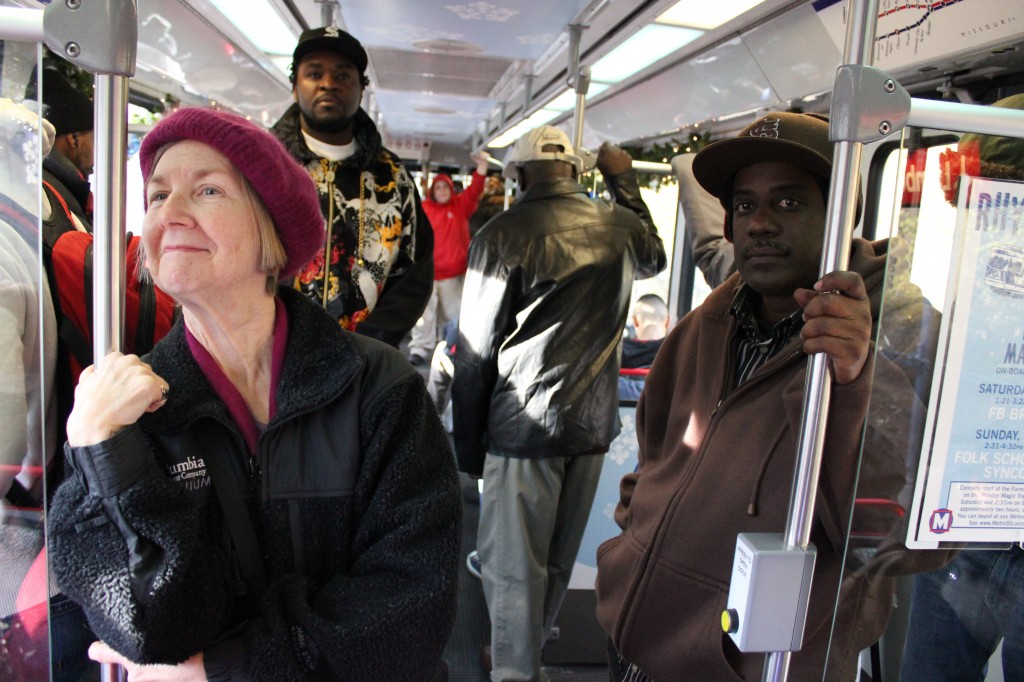 Thank you to KDHX, for all their hard work,
And Sleepy Kitty Arts for their festive artwork,
And FB Brass Band, and their funky good times,
And the Folk School of St. Louis and their folkly twang and rhymes!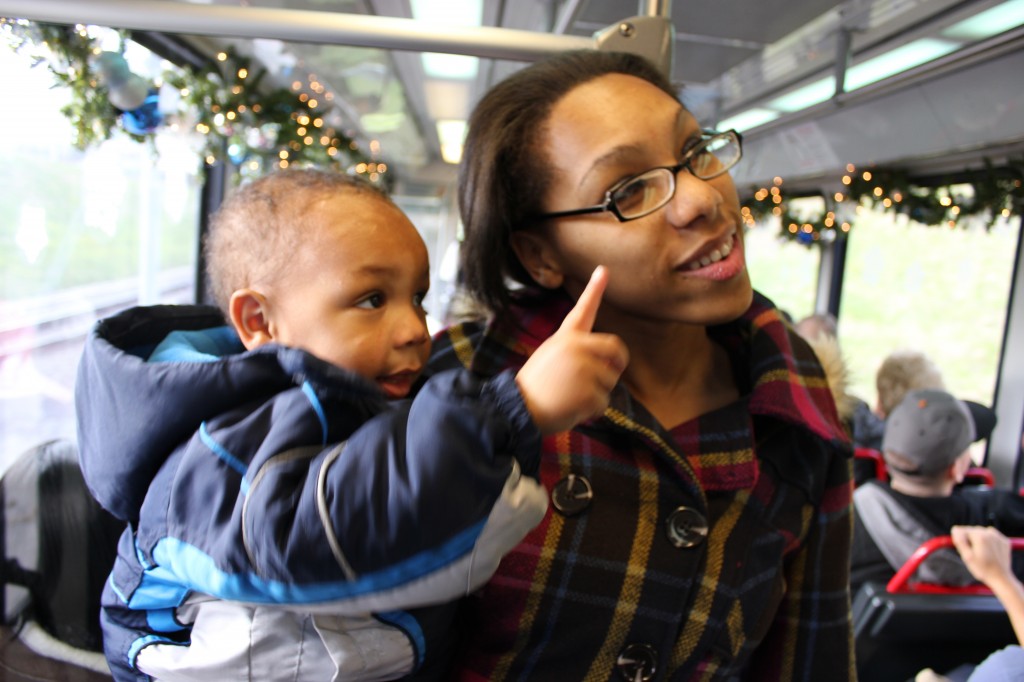 Thank you to the operators, mechanics and staff
And most of all the riders who rode, giggled and laughed.
The Holiday Train is over, but not its good cheer,
Rhythm and Rails to St. Louis, and we'll see you next year.
***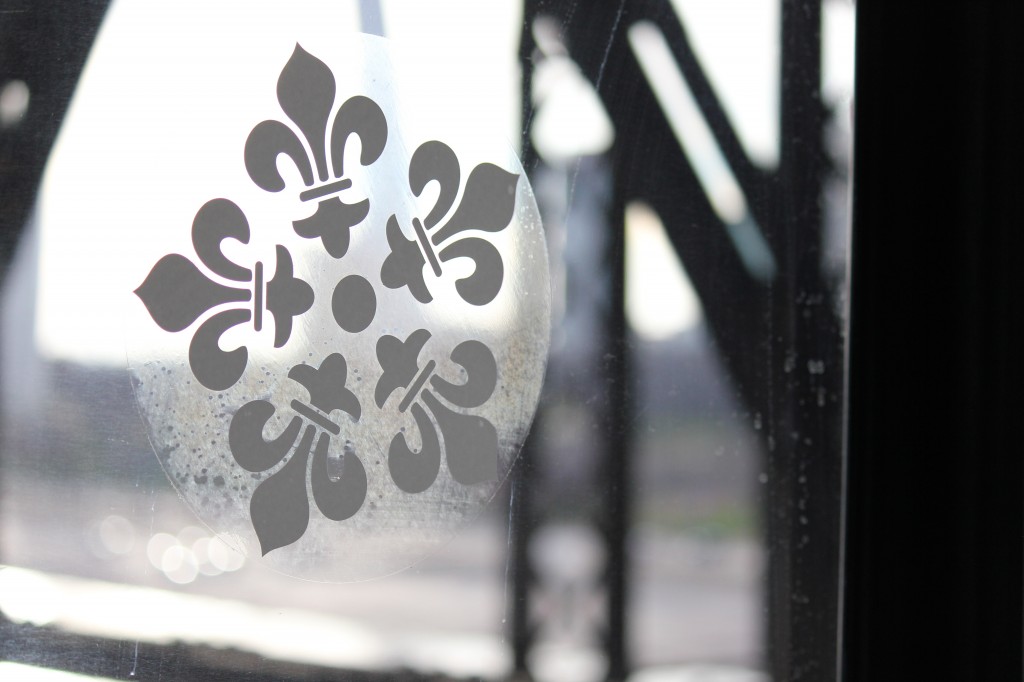 Return to Blog
Categories:
Metro Lifestyle