A Year To Remember: St. Louis Transit in 2010
Return to Blog
This was a year to remember. We here at Metro and the entire region have much to be thankful for at the close of 2010. More than just a great year for Metro, this was truly a year for celebration for the future of transit in St. Louis.

Proposition A passed in St. Louis County.
The most significant transit moment in 2010 is without a doubt the April passage of Proposition A for a dedicated source of transit funding in St. Louis County. Proposition A created a ½ cent sales increase to fund the restoration and expansion of public transit in the region. As a result, a 1/4-cent sales tax passed by St. Louis City in 1997 also went into effect. The result? Transit in St. Louis no longer faces additional service cuts and job losses. Service is restored, and the region can focus on moving transit forward. Proposition A brought forward a renewed sense of partnership with the community, a focus on transparency and accountability, and a strong foundation for transit in the future.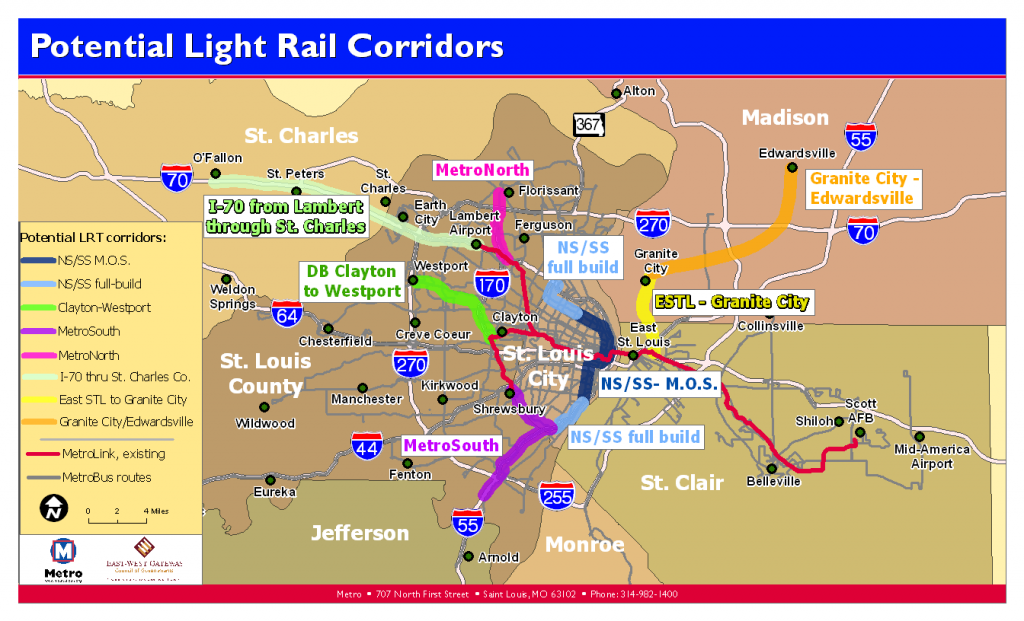 St. Louis Region approves first long-range transit plan: Moving Transit Forward.
The Board of East-West Gateway Council of Governments (EWGCG) on Feb. 24 unanimously approved and adopted Moving Transit Forward, the long-range plan Metro developed through transportation research and community input. It includes potential corridors for bus rapid transit (BRT), light rail, and commuter rail expansion in the bi-state region. The plan is a blueprint designed to help EWGCG decide how best to meet transit needs in all sectors of the region in manageable time frames. Moving Transit Forward will help Metro and the region plan for long-term transit investments for St. Louis.

Bob Baer retired as President and CEO of Metro.
What started as a 90-day temporary appointment for Bob Baer (who also served as Bi-State's Executive Director 1974 – 1977) ended up being three years, two tax initiatives, one service cut, Metro's first long-range plan, the formation of a regional transit coalition, the successful passage of a public transit funding initiative in St. Louis County, and three service restorations. In October, St. Louis officials committed to raising money for the Robert J. Baer Endowed Scholarship in Public Policy Administration for the University of Missouri-St. Louis so Baer's spirit of committed public service can continue.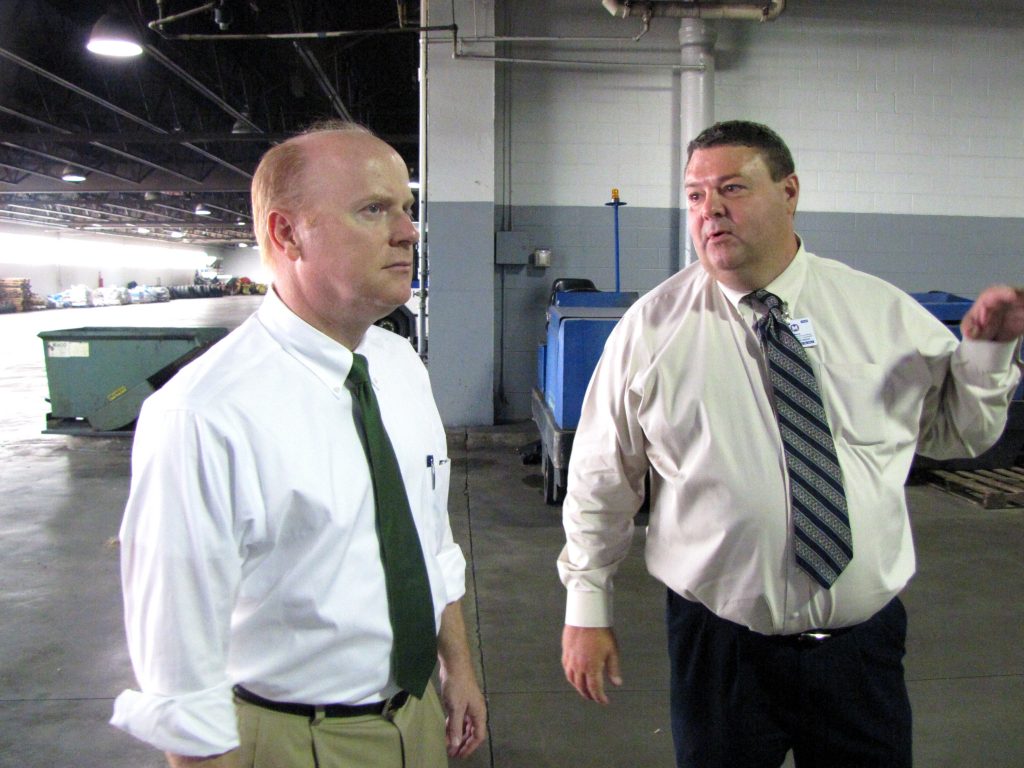 Chesterfield Mayor John Nations joined Metro.
In October, John Nations resigned from his position as Mayor of Chesterfield and joined Metro as President and CEO. Nations, who was also a partner at the Armstrong Teasdale law firm, will lead Metro at a time of great expectations. How will Metro move transit forward in 2011 and years to come? Nations will have a challenging, and hopefully very rewarding, role to play in shaping Metro's future.

First phase of Restoration 2010 began on June 28.
After the passage of Proposition A in April, Metro completed the first phase of service restoration on June 28 – three months ahead of schedule. The first phase focused on increasing frequency for both MetroBus routes and MetroLink, providing much needed service as Metro hired and trained more operators and planned for the second phase of Restoration in August.

Second phase of Restoration 2010 launched on August 30.
During the second phase of service restoration, more than 50 Missouri bus routes changed, including new routes, major route changes, and frequency increases. In addition, the second phase of Restoration included right-sizing MetroBus vehicles, route splitting, an emphasis on time connections and other strategies to make service more efficient. It was a major adjustment for many riders as well as transit operators and Metro personnel, but after a period of adjustment, service in the region has been restored to pre-March 2009 service cut levels, and thousands of Missouri customers have their transit service back.

St. Louis Downtown Airport prepared for lift off.
The Metro owned and operated St. Louis Downtown Airport is the second busiest airport in the region. On Sept. 27, Saint Louis Downtown Airport opened a $2.7 million runway extension and announced a $4.4 million investment to widen the primary runway. The investment is funded primarily through federal grants, and is designed to accommodate growing demand and larger, mid-sized jets. This year Metro also broke ground on a $4.3 million Fire and Rescue Station and fire and rescue truck for the airport, an American Recovery and Reinvestment Act (ARRA) project, to accommodate larger airport traffic.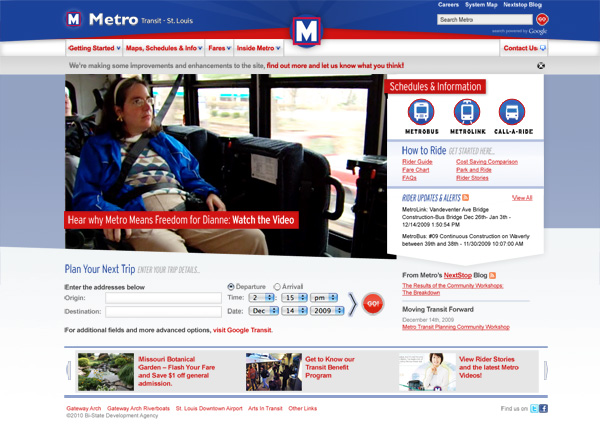 Metro launches Google Transit and new www.metrostlouis.org.
In early February, Metro launched the new landing page for its website, and introduced Google Transit as the Agency's primary trip planner. Many customers prefer TripFinder for their needs, so both applications are available on the website. Then in late December, Metro launched the new Metro website, complete with new features and better organized information. Improving the website to respond to customer feedback will continue into 2011.

The first-ever Holiday Magic Express rolls out, along with Rhythm & Rails Onboard Concert Series.
It all started with a tweet, but ended with a delightful partnership between Metro, the Convention & Visitors Commission, KDHX and of course, the holiday season. A MetroLink train decked out in garland, lights and festive fleurs-de-lis snowflakes have been running in regular service six days a week. On two Saturdays, MetroLink hosted Rhythm & Rails, the onboard concert series presented by 88.1 KDHX. For its first run, customers have sent in many emails and comments reflecting that they really enjoyed the festive decorations and its effect on their ride. It was a warm and spirited way to end what has been a great year for transit.
What will 2011 bring? We can't wait to find out. From all of us at Metro Transit, have a safe and festive New Year, and thank you for a wonderful year.
Return to Blog
Categories:
Capital Projects
,
Metro Lifestyle
,
System Changes