September 19, 2014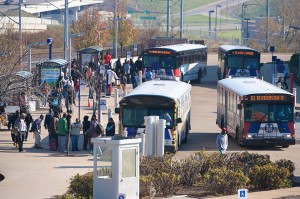 The Bi-State Development Agency's Board of Commissioners ratified a tentative labor agreement today.
Metro transit and the Amalgamated Transit Union Local 788 reached the tentative agreement earlier this week which includes pay raises for approximately 1,400 MetroBus operators, MetroLink operators, mechanics, maintenance and clerical workers. Under the proposed contract, the pension benefits would not change. However, because pension benefits have been a key issue in the negotiations, both parties have agreed to revisit portions of the pension plan in the future.
Next week, Metro employees covered by the tentative agreement will be given information about the proposed contract before voting on the offer on September 25.
"We look forward to ratification by the employees and working together to build a better transit system to move our region forward," said John Nations, President & CEO of the Bi-State Development Agency/Metro.
The contract would go into effect immediately after being ratified by union members.
Return to Blog