September 2, 2010
An 'STLLegend' On Transit, Losing Weight, Finding Love, and Believing in St. Louis
Return to Blog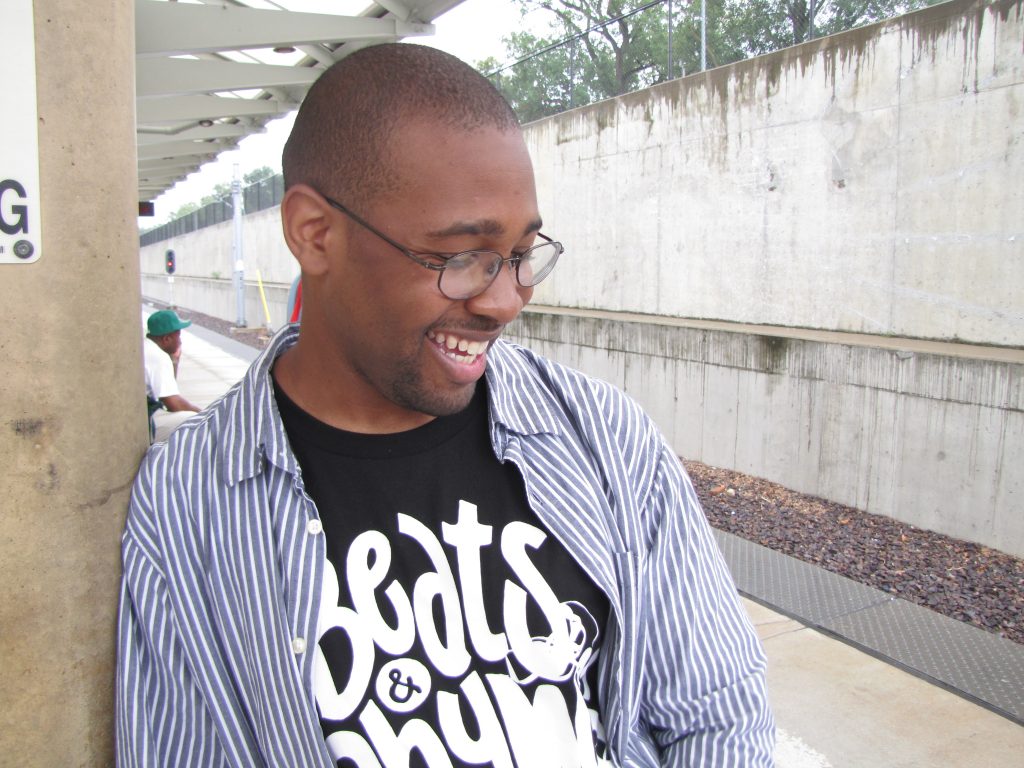 The first thing you notice about Charles Purnell is his smile.  He's got the sort of warm, unassuming smile that conveys openness, with a hint of wisdom beyond his 26 years.  And talking with Purnell, about his life, his love of St. Louis City and transit, you get the sense that he travels well through life.
Purnell grew up in the North Pointe neighborhood in St. Louis City, surrounded by close-knit group of neighbors.  "Everyone in the neighborhood knew everyone else.  We were like family to each other."  He attended Hazelwood East High School, and then Millikin University in Decater, Illinois for a degree in Communications and Theater.  "I always knew I would come back to St. Louis.  Some people like living in central Illinois, and it's nice – don't get me wrong, but I'm a city kid."  And when talking about St. Louis, Purnell's voice has an inspired, lightly reverent tone. "I know it sounds cliche, but this really is a beautiful city.  Every time I walk around, I find something new."
And Purnell sees quite a bit of St. Louis.  He has never owned a car, preferring instead to travel by foot or by transit.  "I personally don't see that much value in [owning a car].  It's a useful tool, certainly, but it's not what I prefer."  He credits his love of walking and taking transit, along with better portion and dietary habits, with helping him lose over 45 lbs since college.  "My family has a history of high blood pressure and diabetes.  It seems we either die in our 40s – 50s, or live into our 90s.  I want to be the latter, like 'Crazy Uncle Charles is telling his stories again!" he laughs.  "Plus, now I have to think about Stephanie, my fiance, and being there for her."
Purnell and his fiance, also a graduate of Hazelwood East High School, reconnected on Facebook during his senior year of college and started dating shortly after.  "We chatted on Facebook for a while, and then when on our first date.  We watched "Rent" at the Mills and then went to Johnny Rockets for dinner," he proudly recollects.  "We're getting married on the fifth anniversary of their first date.  That way I don't have to remember another date," he adds laughing.
"At first my fiance had a pretty negative attitude about public transit.  But now sometimes on weekends we take MetroLink downtown.  It's not as stressful.  I can see her attitude improving, and now she keeps up with the news about transit through me," he grins.  They currently live in the Skinker-DeBaliviere neighborhood near Forest Park.  "I learned that my grandmother and grandfather lived on the same block when they were first married.  That's pretty cool."
Since being back, Purnell has kept himself busy exploring and participating in the community landscape.  After working at Hickey Elementary School for two years with AmeriCorps, he now works at Touhill Performing Arts Center at the University of Missouri-St. Louis as a ticket seller and events assistant.  When he isn't working, he loves volunteering through the St. Louis Cardinals' Greening the Game, LouFest, KDHX, and other opportunities he finds around town.  If you've met Purnell, you notice immediately how open he is to what's going on around him.  While being interviewed on an eastbound MetroLink, a long-haired guy in a red bandana overheard the conversation and piped in, and soon the two were chatting about KDHX and local music.
And chatting is something that comes easily to Charles Purnell.  If you are part of the St. Louis Twitter community, Purnell is known as @STLLegend, his handle on Twitter, where he tweets about music, volunteer work, St. Louis, civic engagement, news and of course, transit.  "At first I thought, 'Am I only nut out here, on tweeting about public transit?'  But then I connected with other people who have similar ideas and interests.  And that's what's great about social media, you can find people with similar ideas, connect, get more ideas out there, direct people to different ideas and opinions.  It's expanded the world for me."
Purnell assures that his handle, 'STLLegend' is not a slight to the "real St. Louis legends, like Chuck Berry" but to a nickname from high school theater.
When asked about the future of St. Louis, Purnell's voice drops and his eyes focus.  "I think St. Louis is a crossroads.  Either we can be a smaller city, or we can be a major city.  We're starting to make the moves to be considered a big city…the restoration of bus service is good, Citygarden is great and gets people downtown, I think high speed rail between here and Chicago will be great too.  Let's push ourselves out there.  We have to have the attitude that we are a major city.  It's up to public officials and citizens to think that way."
Have no doubt, Charles Purnell believes we can.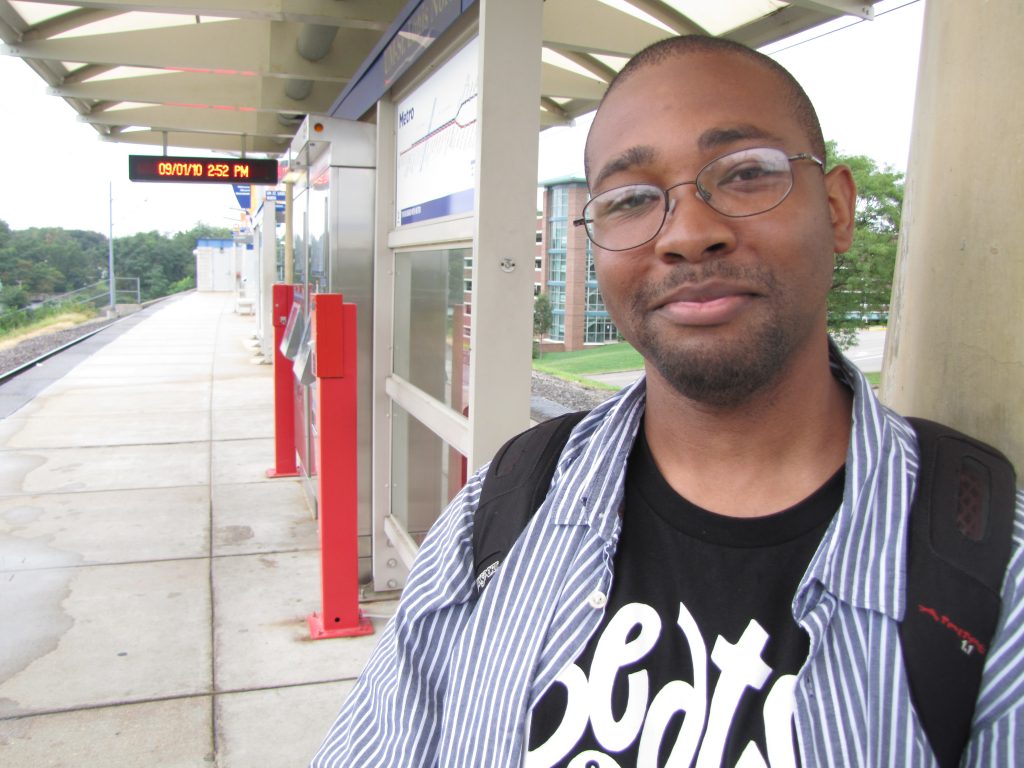 This Friday, September 3, Purnell is organizing a Pub Crawl with other Yelp members and anyone else who cares to join centered around MetroLink stations.  The evening will start at the Arch-Laclede's Landing Station for live music at the Big Bang Bar at 5pm, and continue west.  Come out and enjoy taking transit to great local bars and meet other people interested in exploring St. Louis.
Return to Blog
Categories:
Metro Lifestyle