August 17, 2010
Arch Design Competition Concepts Released Today, Viewing At Gateway Arch
Return to Blog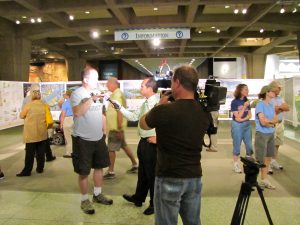 The competition to redesign of the Arch and St. Louis riverfront, Framing a Modern Masterpiece, introduced the teams' concepts today in the lobby of the Gateway Arch.  This international competition seeks to enhance the Arch grounds, create better connections between downtown St. Louis and the eastern and western riverfront, and reinvigorate the story of St. Louis as the Gateway to the West. The competition's website provides information on the teams' submitted concepts.
Since Metro operates the Arch Trams, Arch Museums, Riverboats and riverfront attractions, Old Courthouse and, of course, the neighboring MetroLink Station at Arch-Laclede's Landing, we are very excited to see how the design competition will unfold.
As part of the guidelines, the five chosen teams had to create a design concept that met the 10 goals:
1. Create an iconic place for the international icon, the Gateway Arch.
2. Catalyze increased vitality in the St. Louis region.
3. Honor the character of defining elements of the National Historic
Landmark.
4. Weave connections and transitions from the City and the Arch
grounds to the River.
5. Mitigate the impact of transportation systems.
6. Embrace the Mississippi River and the east bank in Illinois as integral parts of National Park.
7. Reinvigorate the mission to tell the story of St. Louis as the gateway to national expansion.
8. Create attractions to promote extended visitation to the Arch, the City and the River.
9. Develop a sustainable future.
10. Enhance the visitor experience and create a welcoming and accessible    environment.
The teams will present their plans to the competition's jury on Aug. 26 and the winning design will be chosen on Sept. 24.  The competition is seeking public comment through Aug. 23, so spend some time looking at the designs and the teams' concept statements, and then voice your opinion.  If you'd like to take a look at the design boards, they will be available at the Arch lobby Aug. 17-Sept. 26 during regular attraction hours.  A traveling exhibit of the designs will also be around the region at various locations.
On Aug. 20, 10 a.m. – 2 p.m., the Arch Grounds will host Eero Saarinen's 100th Birthday Celebration, cosponsored by the National Park Service and the American Institute of Architects, with hands-on activities for children and birthday cake for the architect of the Gateway Arch.
What do you think about the Arch designs?  Are you excited for a redesign of the Arch grounds and surrounding areas?
Return to Blog