September 1, 2015
Are You Prepared? September is Emergency Preparedness Month
Return to Blog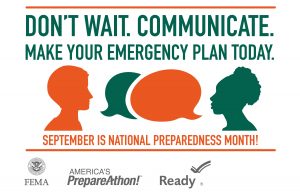 If an emergency, large or small, were to happen at this very moment, would you be prepared? Do you have the necessary supplies? An action plan for you and your family?
Emergencies can happen at any time– at home, at work, at school, or while you're in transit. Don't wait. Communicate.
That's this year's theme by Ready, a national campaign behind Emergency Preparedness Month that helps educate and empower Americans to prepare for and respond to emergencies including natural and man-made disasters. Metro will help get the word out on Twitter and Facebook, as each week this month, they will focus on a different type of emergency and you can learn everything from how to prepare for a flood to knowing what to do during a power outage.
National Emergency Preparedness Month culminates on September 30 with a national day of action, National PrepareAthon! Day, a grassroots campaign for action to increase community preparedness and resilience.
Make a plan. Be informed. For more details, check out our local agencies such as AllReadySTL and the Red Cross.
Return to Blog