September 28, 2011
Art Bus Celebrates Green Life and the Missouri Botanical Garden
Return to Blog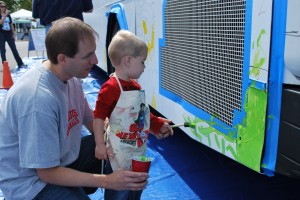 Art buses keep blooming all over the MetroBus fleet! Last Saturday, September 24, at the Green Homes and Great Health Festival at the Missouri Botanical Garden, attendees got the chance to paint one of the new Art Buses. Laid out in a paint-by-number scheme, kids and adults alike painted in the colorful designs created by St. Louis native Genevieve Esson for Missouri Botanical Garden's EarthWays Center and the US Green Building Council Gateway Chapter.
Esson said her design conveys energy, movement and connection. "I wanted to convey a message of how beautiful our planet is and how by a few simple changes in how people consume and go about their daily lives, they can reduce their environmental impact," Esson said. The mural features many bright colors and a flowing design to capture people's attention including renewable sources, such as solar panels, wind turbines, using CFL light bulbs and spotlighting the Missouri Botanical Garden.
Click here to see the slideshow.
"This is the fourth time Metro Transit and the Missouri Botanical Garden have partnered on a MetroBus painting event," said David Allen, Director of the Metro Arts in Transit Program. "Children like to draw on walls. Painting a MetroBus gives them the opportunity to have fun creating art on a really big metal canvas without getting in trouble with mom and dad!"
Last week, an Art Bus was painted at the Family Festival in Clayton in celebration of the 100th anniversary of the St. Louis Society for the Blind and Visually Impaired and the 60th anniversary of The Delta Gamma Center for Children. The Art Bus designs will be on the street for one year.
Return to Blog