April 17, 2014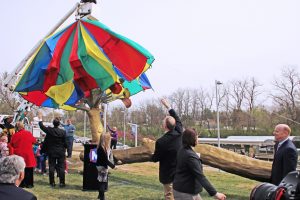 Public artwork created by St. Louis artist Catharine Magel was dedicated this morning at our UMSL South MetroLink Station during a special event that also kicked off the University Square development project.
Bi-State Development Agency/Metro President and CEO John Nations, Federal Transit Administration Region 7 Administrator Mokhtee Ahmad, Bi-State Development Agency Board of Commissioners Chairman David Dietzel, University of Missouri – St. Louis Chancellor Tom George, St. Louis County Executive Charlie Dooley, Wayne Goode from the University of Missouri System Board of Curators Member and the University Square Community Development Corporation, Normandy Mayor Patrick Green and Magel spoke at the event.
The artwork, titled "Changing Identities," overlooks the UMSL South MetroLink Station on the UMSL campus. The artwork is 15 feet high by 24 feet long. It is made from cast metal, glass mosaic, ceramic, steel cut outs and fiberglass.
The artwork was commissioned as part of Metro's Arts in Transit Program which is designed to enhance public transit environments. In addition, it was created to honor four people who died when a bus jumped the curb and crashed into a bus shelter at that location in 1997. One of the victims was Green's sister, Christina. Simone German, Ernest Morgan and Shirley Abernathy were also killed in the accident.
Magel says objects on the upper branches of the tree symbolize unlocking feelings and associations. The log and flight of birds symbolize the bridge between the worlds of life and death.
She says her concept reflects the ambiguity of our human perception. The butterfly can be seen more clearly as a symbol of magic in life and the freedom of the soul.
Magel has built a distinguished career as a studio artist spanning over 30 years of national exhibitions in museums and galleries. She began training as a scenic painter in 1991 in St. Louis and became part of the USA ScenicArtists Union. Magel is working on a new piece for Webster Groves' Sculpture Park. She is also working on a collaborative project called "The Open Heart Expansion," which will be a permanent architectural structure located in St. Louis.
Watch the video of the artwork being unveiled and check out the slideshow below as well.

Created with Admarket's flickrSLiDR.
Return to Blog