May 19, 2015
"Ask Metro" highlights questions asked in past St. Louis Post-Dispatch live chats, on social media, on our blog or via email. Have a question for us? Email it to [email protected] and your question may be included in a future blog post.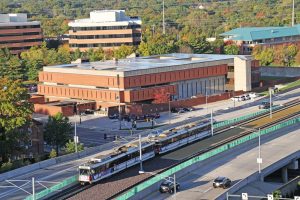 Q: Does MetroLink have safety features in place, like Positive Train Control?
A: MetroLink does not use Positive Train Control (PTC), but instead employs a train control system known as Automatic Train Protection (ATP). This system includes an onboard and wayside train control system that provides enforced speed control and collision avoidance technology. Additionally, MetroLink trains include an operator acknowledgement function that ensures that if the operator is incapacitated, the train will stop.
The Federal regulations requiring Positive Train Control on railroads do not apply to our light rail system, but the ATP system we use on MetroLink does provide the important feature of enforced speed control. Automatic Train Protection has proven to be a safe system, helping MetroLink deliver more than 20 years of reliable and safe light rail service.
Return to Blog