November 4, 2014
Bi-State Development Agency Wins A Healthiest Employer Award
Return to Blog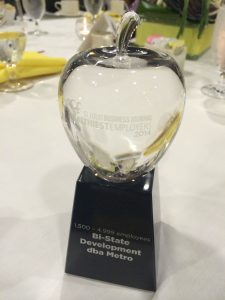 The Bi-State Development Agency/Metro was recently honored as one of St. Louis' Healthiest Employers in 2014, for the third consecutive year.
The St. Louis Business Journal partnered with Healthiest Employer, an Indianapolis-based corporate wellness research and data analysis firm that honors employers of all sizes, regions and industries each year for its Healthiest 100 list. The list uses a two-part scoring methodology incorporating an employer's Healthiest Employer Index and data provided in the Strategic Wellness Assessment.
The Business Journal profiled Kenneth Hall, a MetroBus operator. Hall told the paper he enjoys the exercise facilities Metro offers as well as several informational seminars and consultations with health vendors from around the region.
The wellness program at Metro covers all aspects of an employee's wellness. We offer programs that tailor to exercise and fitness, provide exercise classes and personal training sessions. We also sponsor weight management groups at several of our facilities.
We provide events that address health topics such as stress management and reduction and cardiovascular health and also screen for common health issues such as diabetes and cancer.
Metro provides an annual incentive coined "Healthy $avings." Participants enrolled in Metro's medical insurance plan can redeem $500 for their insurance premium by completing healthy behaviors, such as going to the dentist annually. Part of that program is our annual biometrics screenings, when a team of health professionals screen employees, spouses and even retirees for blood pressure, cholesterol, height, weight and glucose.
All Metro programs are free for employees and typically extend to an employee's family.
In March 2014, the agency ranked No. 41 out of 100 companies in Healthiest Employers' latest 2014 ranking and was recently awarded the Fit-Friendly Worksites Platinum Award Recognition, the highest level of recognition offered by the American Heart Association.
Return to Blog