December 18, 2013
Bi-State Development Agency/Metro Earns Green Business Challenge Award
Return to Blog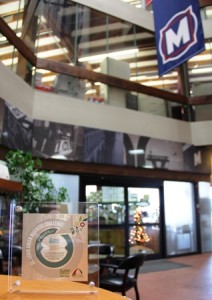 We all know that Metro transit services contribute greatly to regional sustainability by keeping over 45,000 vehicles off area streets each day.
At the Bi-State Development Agency (BSDA)/Metro, we work hard to also promote sustainability inside the workplace with a new "Lean & Green Team." Just last week, we were honored at the 2013 St. Louis Green Business Challenge breakfast and awards ceremony.
The St. Louis Green Business Challenge, administered by the St. Louis Regional Chamber, encourages area companies to adopt sustainable business practices that can in turn help grow our region's green economy, reduce environmental impact and improve bottom lines. The Challenge requires participants to complete sustainability strategies from a scorecard in the areas of outreach, energy reduction, indoor environmental quality, waste reduction and clean transportation options. The scorecard itself is a great tool to be used to generate goals and new sustainability projects.
We earned enough points to be honored with an Award of Achievement, which recognized a 23 point improvement over last year's score.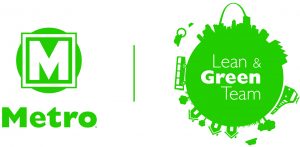 This year, we improved efficiencies in several areas. To name just a few: The Lean & Green Team was created along with its logo, intranet website and blog which shares green news, living tips and activity announcements. Also, several recycling drives were held including cell phones for soldiers and medical equipment. We made a switch to recycled office paper and donated three old buses to Wings of Hope, which is now turning them into mobile hospitals. The judges also for the first time recognized Metro's ongoing "smart" bus initiative that has produced a strong fleet of vehicles that spend more time on the streets between major repairs, burn less fuel and last longer before they are taken out of service.
The greatest impact we make is in providing the region with public transit, decreasing the eco-footprint of St. Louis residents and visitors, taking cars off the road, and keeping the air clean. Metro transit ranks among best in the nation for performance and efficiency. Taxpayers and Metro spend the lowest amounts per passenger among 10 peer cities. We're doing our part to transport people efficiently. We welcome the community to come aboard!
Return to Blog