August 31, 2015
Bi-State Development – Making an Impact for More Than 65 Years
Return to Blog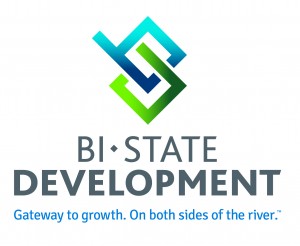 We're celebrating a special milestone today. On this day in 1950, President Harry S. Truman signed an interstate compact between Missouri and Illinois and formally established the Bi-State Development Agency.
Now doing business as Bi-State Development (BSD), our organization is probably best known for operating Metro, the region's public transportation system. But if you look closely, you'll see that BSD has done so much more for the bi-state region, and is poised for accomplishing even greater things in the years to come.
For more than 65 years, BSD has worked with regional partners to take on challenges and develop solutions that have made our region even stronger. The interstate compact signed into law 65 years ago gives us broad powers to cross local, county and state boundaries to drive economic development on both sides of the Mississippi River
From highway planning and pollution reduction studies, to marketing and operating the Gateway Arch or managing the region's new freight district, BSD has played an integral role in the region's growth since it was first established. Here's a look at some of the highlights of the last six and a half decades:
One of BSD's very first actions was to conduct an Interstate Highway Study for the bi-state region. That study became a model for the rest of the nation.
Four years later, BSD was asked to look into sewer problems in St. Louis County. That study led to the creation of a new agency responsible for meeting the sewer needs of the St. Louis metropolitan area – the Metropolitan St. Louis Sewer District.
In 1962, BSD forged a partnership with the National Park Service to construct the Gateway Arch tram system. BSD financed the trams that take visitors to the top of the Arch, and has been operating them since they opened in 1967. Today, BSD also manages the sales and marketing for the Gateway Arch, and its Revenue Collection and Ticketing Center, and also owns and operates the Becky Thatcher and Tom Sawyer riverboats as well as bike rentals and helicopter sightseeing tours on the riverfront.
BSD got into the public transportation business in 1963, more than 14 years after the organization was established. At that time, public transportation was a hodgepodge of 15 struggling bus companies. The region's leaders turned to BSD for a better, cohesive transportation future, and in 1963, BSD acquired all 15 private transit firms and began operating the first regional transit system, known today as Metro.
The region turned to BSD again one year later, when it was looking for a reliever airport for Lambert-St. Louis International Airport. So BSD took to the skies and purchased the Parks Metropolitan Airport in Cahokia/Sauget, Ill., in 1964. Today, it's known as St. Louis Downtown Airport and it contributes nearly $600 million in economic benefits to the region. You may be surprised to learn that it is the second busiest airport in the St. Louis region and the third busiest in Illinois.
BSD isn't just in the people-moving business. We were selected to establish and lead the new Regional Freight District to optimize and coordinate freight movement for eight counties in Missouri and Illinois. It is estimated that the new freight district will support 230,000 jobs. In addition, BSD has created the Bi-State Development Research Institute, a new enterprise that provides leaders with the information they need to make smarter decisions on the future of growth and development in the region.
It's been an exciting 65 plus years. But the future is even more exciting. With this deep expertise in planning and implementation and a long history of innovation and regional collaboration, BSD will continue to leverage all of that experience into real solutions for regional challenges. The best is yet to come.
To learn more about Bi-State Development visit us at bistatedev.org
Return to Blog
Categories:
Economic Development