August 14, 2015
Bi-State Development Reaffirms its Unique Role With an Updated Look
Return to Blog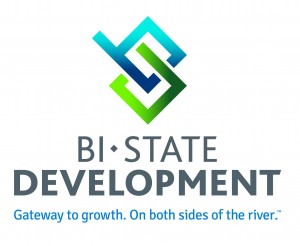 For more than 65 years, Bi-State Development (BSD) has served as an economic development engine for the St. Louis region. To celebrate its proud heritage and to better identify with the many services BSD provides for the bi-state area, starting today, BSD is putting the emphasis back on "development" in its name while introducing a refreshed logo and new website: BiStateDev.org.
Ratified by Congress in 1949 and signed into law by President Harry S. Truman in 1950, BSD was given broad powers to assist Madison, Monroe and St. Clair Counties in Illinois, and the City of St. Louis and Jefferson, St. Charles and St. Louis Counties in Missouri, in promoting regional economic development. BSD has spent the past six and a half decades partnering with private and public entities on hundreds of projects that have created thousands of jobs on both sides of the Mississippi River.
Since 2003, the organization has used the name Metro, a brand identity associated with the award-winning regional public transit system, for all of its operations. While the Metro brand name and logo will not change for the public transit enterprise, Bi-State Development is being restored as the parent company name. The name change will better reflect the many ways this multi-faceted resource for economic development positively impacts the bi-state area by providing real solutions to regional challenges.
With deep expertise in planning and implementation, and employing a model of efficiency and accountability, BSD moves the region forward through its five current business enterprises. In addition to Metro, BSD owns and operates St. Louis Downtown Airport and its surrounding industrial business park; owns and operates the Gateway Arch Riverboats and operates the Gateway Arch Revenue Collections Center and the Gateway Arch trams; operates the Bi-State Development Research Institute; and operates the Regional Freight District.
Return to Blog