March 8, 2011
Bus "Bridge" Shuttles For MetroLink Next Three Weekends in March
Return to Blog
This month, two area bridge construction projects will impact MetroLink services and unfortunately that translates into three upcoming weekends of altered service to make sure that passengers and transit vehicles stay safe.  During bus bridges, Metro personnel will be on site to guide passengers, and rider alerts will be posted in MetroLink train cars.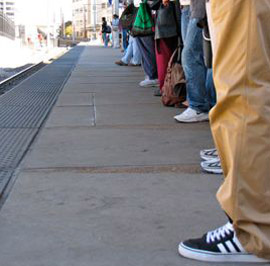 Sunday, March 13, 2011
Where: Emerson Park MetroLink Station to Fairview Heights MetroLink Station
Time: Beginning of service (approximately 4:30 a.m.) until noon.  The normal Sunday schedule will resume at noon.
Reason: Accommodate road construction work on an overpass on I-64 in the East St. Louis/Washington Park, Illinois, area
Details
Blue line service will only operate from Shrewsbury Station to Civic Center Station. Customers can get on a Red Line train to continue eastbound.
Red line Service will operate from Lambert Terminal #1 to Emerson Park MetroLink Station and from the Fairview Heights MetroLink Station to the Shiloh-Scott MetroLink Station.
During the adjusted service, customers should expect 15-20 minutes to complete the trip.

Saturday & Sunday, March 19 – 20 & March 26 – 27, 2011
Where: Central West End MetroLink to Union Station MetroLink Station
Time: All day and night
Reason: Grand Bridge demolition

Details
Both Red and Blue Line service will operate regular schedules to and from the CWE MetroLink Station and the Union Station MetroLink Station.
During the adjusted service, customers should expect 15-20 minute delays to complete the trip.
Passengers can board eastbound at Union Station (Clark & 18th) next to the MetroLink steps.
Passengers who want to access areas around the Grand MetroLink Station can board the #70 Grand North or Southbound at Union Station near the bus shuttles. Look for posted signage.
Return to Blog