June 4, 2013
Cardinals Tickets Discounts Now Available For Metro Customers and Employees
Return to Blog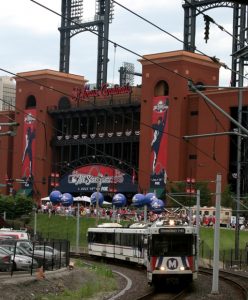 Thousands of Cardinals and other baseball fans take MetroLink and MetroBus to  Busch Stadium every season so the St. Louis Cardinals are offering special ticket discounts to public transit customers and Metro employees. Metro customers and employees can now buy discounted Cardinals tickets for the home games this week, the June 23 game, and select dates in July, August and September this season.
On special Sundays, Metro customers and employees may purchase Right and Left Field Loge tickets for $16 each and Right and Left Field Box tickets for $25 apiece. Tickets for select Monday through Thursday home games may be purchased by Metro customers and employees for $11 each for Right and Left Field Loge seats and for $20 apiece for Right and Left Field Box seats.
To take advantage of these great Cardinals tickets discounts, go to www.cardinals.com/metro and click on the green "T" next to all the games you want to purchase tickets for. Then enter the coupon code METRO13, click Apply and you can proceed to buy the discounted tickets.
The coupon code is valid for 28 games from tomorrow night through September 25. Notable upcoming games include Stan Musial Poster Night on June 6 and Replica 2011 World Series Game 7 Ticket Night on June 23.
Let Metro and the Cardinals help you save money on your tickets and avoid sitting in traffic before and after the game. It's a win-win situation.
Return to Blog