June 20, 2012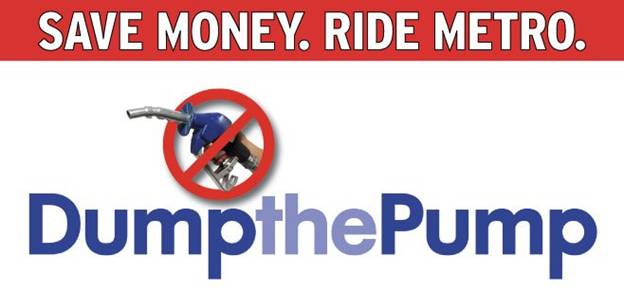 Are you a Metro rider who has been looking for an excuse to encourage your friends to try MetroLink or MetroBus?  Or do you know someone who wants to save money on the commute to work? Tell them to "Dump the Pump" tomorrow and they can learn how easy it is to use public transit and save money!
Metro is joining the American Public Transportation Association (APTA) and public transit systems across the country in celebration of the 7th Annual National Dump the Pump Day – tomorrow,  June 21.
Metro is inviting area residents to leave their cars at home or at one of Metro's many park-ride lots, take MetroBus or MetroLink to work, and find out how Metro Transit can save them money on their daily commutes.
Metro volunteer ambassadors will be at transit locations throughout the region tomorrow morning to greet Metro customers and hand out "I Dumped the Pump for Transit" stickers that riders can wear with pride for choosing to "Dump the Pump" and saving money by using Metro Transit.
Riding public transit is an economical way to spend less on your commute to work or school, particularly when gas prices are high. The latest APTA Transit Savings Report shows that a two person household that downsizes to one car can save about $10,000 a year on average.
You can calculate how much you can save by using public transit with our transit-savings calculator at: www.metrostlouis.org/RidingMetro/dumpthepump.aspx.
More and more people in U.S. are choosing public transit. In the first quarter of 2012, Metro Transit had the highest increase in bus ridership in the nation (15.6%), and was in the top ten for an increase in light rail ridership (8.2%). Across the nation, ridership was up 5%.
Encourage others to Dump the Pump tomorrow and take MetroLink or MetroBus to work.  You can plan your trip online at www.metrostlouis.org.
Thank you for your support and for riding public transit in St. Louis!
Return to Blog
Categories:
Metro Lifestyle