June 18, 2013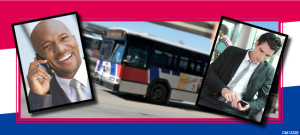 The safety of our passengers and employees is our number one priority at Metro transit. We wanted to make you aware of a current trend taking place around the country where thieves are targeting cell phones and other electronic devices. In order to help prevent you from becoming a victim of theft, the Metro Public Safety Department offers these tips:
Always be aware of your surroundings. Don't be so focused on texting, emailing, reading or listening to music, that you don't know what is happening around you.
Keep your cell phone and other valuables out of sight. Don't have your phone, iPad, iPod, laptop or wallet sticking out of your purse, backpack, bag, or pocket. They could become easy targets!
If you must talk on the phone while in public, stay aware.
 

Use your cell phone's lock feature and activate the GPS tracking on your phone.
Do NOT loan your phone to strangers. One of the current crime trends is a stranger will ask to borrow your phone to make a call, and then when the train or bus stops, he or she exits the vehicle taking your phone with him/her.
Keep the ringer on vibrate or off when in public places to avoid unwanted attention.
If you are using headphones in public places, keep one ear free so you can hear what is going on around you. We know you want to listen to your music or books on tape, but when your ears are plugged you can't be aware of what is going on.
If your phone is lost or stolen, contact the police or Metro Public Safety officers immediately and then contact your service provider.
Return to Blog
Categories:
Safety