August 25, 2020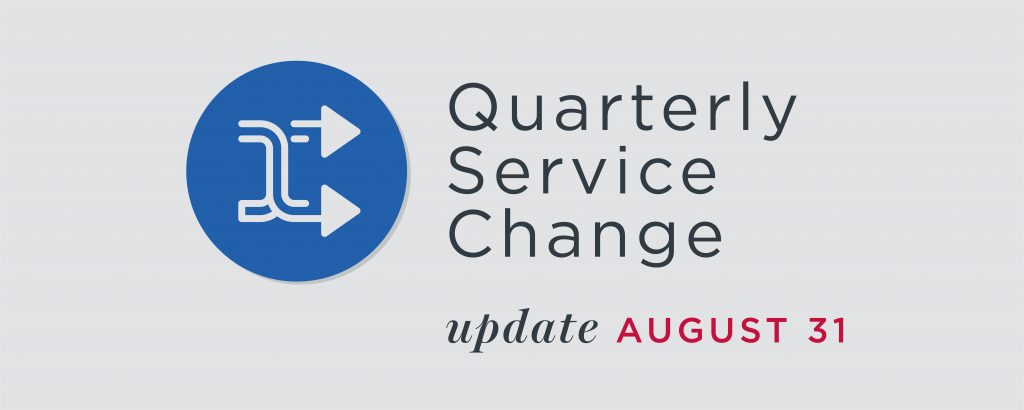 On Monday, August 31, service will resume on the #56 Kirkwood-Webster and #59 Oakland MetroBus routes. Both routes will operate on a Saturday schedule for all seven days of the week.
Also beginning on August 31, all Illinois MetroBus routes will resume their normal weekday and weekend schedules, and schedule adjustments will go into effect to increase service frequency for the #33 Midland and #58 Chesterfield Valley MetroBus routes.
Updated schedules for these routes are available below, and can also be accessed through the Transit app.
Missouri MetroBus Updated Schedules | Effective August 31, 2020
Illinois MetroBus Updated Schedules | Effective August 31, 2020
#12 O'Fallon – Fairview Heights
#14 Memorial Hospital-Westfield Plaza
#15 Belleville-Shiloh-O'Fallon
---
To support transit riders during the COVID-19 pandemic, Metro temporarily expanded its Lyft program to provide customers in areas with suspended MetroBus service with access to $1 Lyft rides. With the restoration of service on the #56 Kirkwood-Webster route, the Lyft program will be discontinued along that corridor on August 31.
Beginning in late March, service on some lower-ridership MetroBus routes was temporarily suspended due to reduced workforce availability as a result of the COVID-19 pandemic. As workforce resources have become more available in recent weeks, we have been able to restore service on some of these temporarily suspended routes. We hope to make additional modifications to transit services and continue to restore temporarily suspended bus routes later this year. The following Missouri MetroBus routes remain temporarily suspended:
Before you ride, here are some quick reminders:
---
For more information or assistance, please contact Metro Transit Information. 
314.207.9786 (TEXT) |​​​​  314.231.2345 (PHONE)
7 a.m. – 6 p.m. | Monday through Friday
Return to Blog
Categories:
COVID-19
,
Rider Alert
,
System Changes