May 18, 2015
Citizens for Modern Transit's Great Race: Relay to the Rails is this Thursday, May 21, and while the objective is still the same, the way to get to the finish line comes with a twist.
Rather than having teams face off against each other using different modes of transportation (public transit, carshare, biking and rideshare), CMT's Great Race 2015 will feature two teams combining multiple forms of transportation to race to the finish line — a multi-modal relay race.
One team (Team WEST) will bike and carshare to the Shrewsbury Landsdowne I-44 MetroLink Station, meet additional teammates and take the train to the finish line downtown. The other team (Team EAST) will bike and rideshare to the Belleville MetroLink station, meet additional teammates and then ride MetroLink to the finish. The race begins at 4 p.m. and ends at the finish line celebration, which runs from 5 p.m. to 6:30 p.m., at Pi Pizzeria on Washington Ave. in downtown St. Louis, right next to the Convention Center MetroLink Station.
On their website, CMT says that the new approach will "help raise awareness about the viable alternative transportation options that exist, demonstrate how seamlessly these modes can be integrated together, and for the first time, enable the organization to extend this event into the Metro East."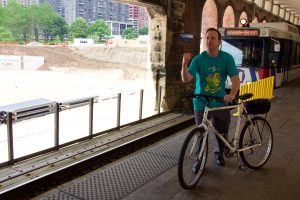 Several Metro employees (myself included) are participating in the transit leg of the race. Other local celebrities will be participating as well, including: Guy Phillips, host of the Phillips & Company morning radio show on Y98; Pat McGonigle, anchor of Today in St. Louis on KSDK Newschannel 5; Matt Chambers, meteorologist and show host of Great Day St. Louis on KMOV Channel 4; Angela Hutti, meteorologist for Fox 2 News; and more!
You can support Team West or Team East on Thursday by rallying behind social media using the hashtag #cmtgreatrace on Twitter, or by joining everyone at the finish line to congratulate the winners at Pi Pizzeria. We hope to see you at the event.
Return to Blog
Categories:
Metro Lifestyle