July 23, 2020
Construction Update: Central West End MetroLink Station Upgrade
Return to Blog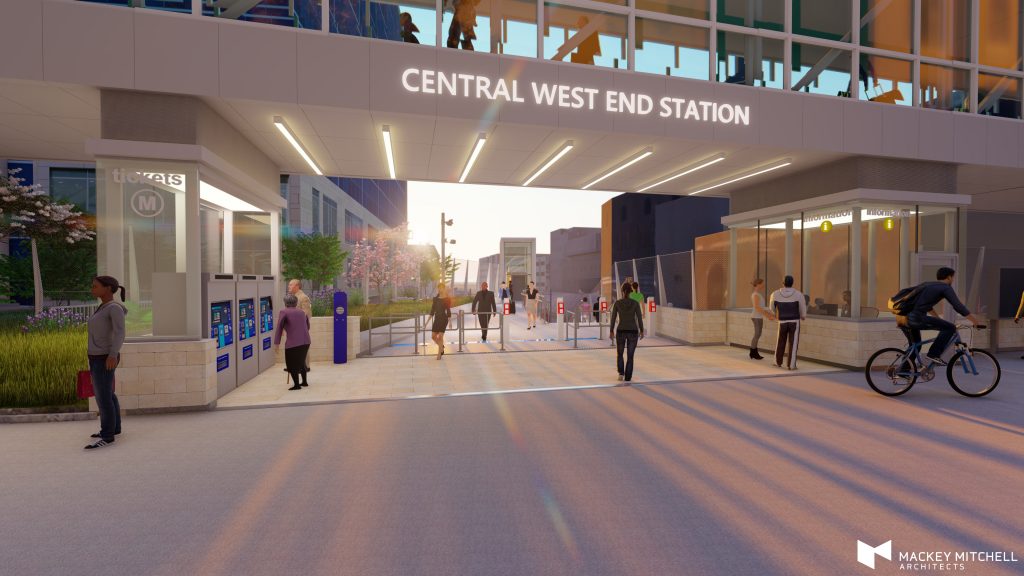 The Central West End MetroLink Station is being transformed, thanks to funding from Washington University School of Medicine and BJC HealthCare, and in partnership with Metro Transit. As one of our busiest stations, thousands of passengers will benefit from the safer, more convenient and more comfortable transit experience the upgrades will provide.
The project got underway at the end of last year. To date, the steel structures have been put in place for the new elevator at the west end of the station and supports for the new platform canopy have been installed. Soon, passengers will start seeing the stone facade on the elevator being installed. The elevator at the west end of the station is scheduled to be back in service in September.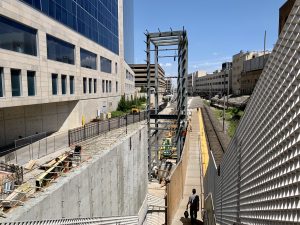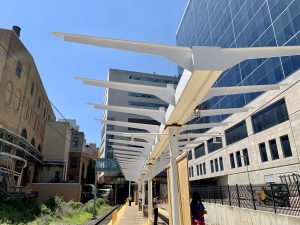 The expansion of Euclid Plaza, a new entrance area on the west end of the Central West End Station, will be poured and constructed in the next phase of the project. Stay tuned to see continued progress on the redesign project.
The Central West End Station is one of five stations on the MetroLink system included in the MetroLink Access Project, which was launched to improve rider safety by better controlling access to MetroLink platforms. The station redesign allows us to reinforce these efforts and create a more secure transit environment for our riders.
Metro Transit Security Specialists and contracted security guards from G4S check fares and monitor MetroLink riders as they arrive at the modified MetroLink platform access points.
Central West End Station Redesign Details
The $7.5 million enhancements are being implemented to relieve congestion at the station and improve safety and visibility. The project is scheduled to be completed by the end of 2020.
New, monitored entrance/exit at the street level from Euclid Avenue on the west end of the station featuring a welcome center at the top of the stairs that lead down to the MetroLink platform
A new, wider staircase with a center handrail connecting the new Euclid Avenue entrance/exit to the platform to better accommodate passengers
Relocating the elevator on the station platform to relieve congestion
New, upgraded platform lighting
An expanded canopy to cover 70% of the MetroLink platform. The current canopy covers 30% of the MetroLink platform.
Safety improvements including a speed bump, stop sign, and new lighting at the entry to the MetroBus area of the garage which connects to the east entrance/exit of the platform.
Return to Blog
Categories:
Construction