January 27, 2011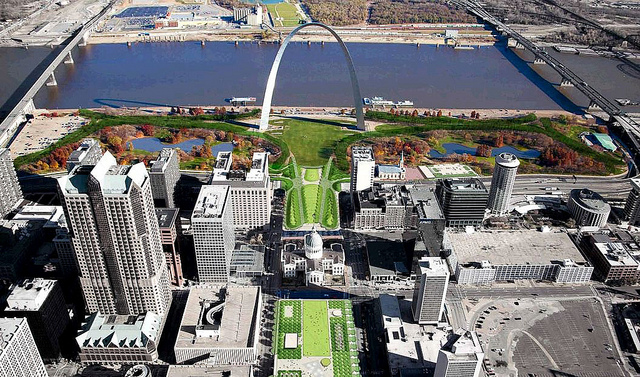 Last night, members of the winning design team and stakeholders presented an update to the CityArchRiver2015 competition to reshape the Arch grounds, and to connect the Gateway Mall and East Riverfront to the Jefferson Memorial National Park and the Arch.  Michael Van Valkenburgh Associates outlined their concept, which included the closure of 3 blocks of Memorial Drive, a grassy "lid" over the depressed lanes of I-70 to connect Luther Ely Smith Square to the Arch, and aerial gondolas to carry visitors from the southwest riverfront to the attractions on the east in Illinois.
Read about the design concept on the competition's website.
Michael Van Valkenburgh explained to the audience at the Ferrara Theater that the design team was focused heavily on increased connections among the focus areas, ADA accessibility, and the use of more sustainable landscape techniques.  The design also called for a widening of the sidewalks and tree cover at Kiener Plaza and closing Lenore K. Sullivan to regular vehicular traffic.  Van Valkenburg said the plan does not recommend building another parking garage, but instead partnering with underutilized parking facilities in downtown St. Louis.
The Museum of Westward Expansion would also see a major overhaul, including a new entry and facade facing west and 50,000 additional square feet of exhibit and event space.
Representatives of CityArchRiver2015 confirmed that the Arch redesign would be in place by October 28, 2015.  Metro has a very strong role in the future of the Arch grounds: Metro Business Enterprises operates the Arch tram and ticketing, marketing, and riverfront attractions, and works closely with the National Parks Service to coordinate events and projects such as the Riverfront Bike Trail Connector.  Tomorrow, Nextstop will discuss more about Bi-State Development Agency's, dba Metro, in-depth role in the Arch grounds redesign and its operation.
You can leave a public comment on the Community Connection page of the website.  To see the design concept in person, here is a schedule of its exhibition:
Jan 31 to Feb. 25
Arch lobby
9 a.m.-6 p.m.
Jan. 31 to Feb. 3
Missouri Botanical Garden, Beaumont Room
9 a.m.-3 p.m.
Garden admission required
CityArchRiver 2015 staff available for questions: 9 a.m. to noon on Jan. 31 and 1 p.m. to 3 p.m. on Feb. 1 and 3.
Feb. 7 to 9
Southern Illinois University Edwardsville, Morris University Club, second floor
9 a.m. to 8 p.m. Feb. 7; 8 a.m. to 8 p.m. Feb. 8 and 9.
CityArchRiver 2015 staff available: 9 a.m. to 12:30 p.m. Feb. 7.
Feb. 14 to 18
Missouri Historical Society, Forest Park, Grand Hall
10 a.m. to 5 p.m. daily; except Feb. 15, 10 a.m. to 8 p.m.
CityArchRiver 2015 staff available: 4 to 6:30 p.m. Feb. 15, and 10 a.m. to 12:30 p.m. Feb. 17.
Feb. 21 to 25
Return to Blog