October 17, 2012
Devoted Cardinals Fan Flies from Louisiana to St. Louis Downtown Airport For Nearly Every Cardinals Game
Return to Blog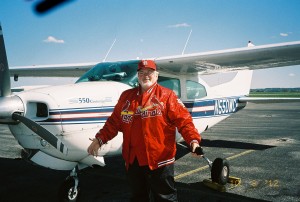 Written by Special Contributor Diane Earhart; Administrative Assistant at St. Louis Downtown Airport in Cahokia, Illinois
It's been an exciting Cardinals Postseason.  Some of you love this time of year for all the stats and trivia.  Here's a trivia question for you:  Who just may very well be the only St.  Louis Cardinals season ticket holder from the state of Louisiana?
That would be Jerry Anderson who flies from his home near Shreveport, Louisiana to St. Louis Downtown Airport in Cahokia, Illinois, to attend most of the Cardinals home games.
Anderson is a lifelong Cards fan, just as his father was.  His father grew up in the Boothill of Missouri and listened to the games on the radio in the country store.  He was a pitcher on the local baseball team and passed his love of the Redbirds on to his son.
Anderson started keeping score of St. Louis Cardinals games at the age of six.  He began by drawing his own scorecard on pads of lined school paper.  He still keeps score of each game and has kept nearly all the score pads of every game he has ever attended or listened to!
In addition to a longtime interest in the Cardinals, Anderson has a lifelong interest in aviation.  "I watched the Flying Boxcars as a child," he said, referring to the military cargo airplane, the Fairchild C-119 nicknamed the Flying Boxcar, which was common in the 1950s.
Anderson spent 11 years in the Air Force, starting as a radio technician, spending many hours in the control tower maintaining the equipment.  He earned a degree in accounting and became a pilot, primarily flying St. Louis-built McDonnell Douglas F-4 Phantoms.  "Back when I flew F-4s during the late 1970s, we would more often than not, have to take airplanes that very few things really worked, but I learned to do with less than 100 percent," Anderson said.  He also flew F-16s at Nellis Air Force Base near Las Vegas, Nevada, where he trained pilots, including three Air Force Thunderbird pilots.
After his time in the Air Force, Anderson settled in Boisser City, Louisiana, near Shreveport and started an insurance business.  In 1992, he and another man went into partnership buying a four-seat Cessna Skylane.  In 1996, Anderson started flying to about 15 Cardinals home games each season.  In 1998, he upgraded to a larger and faster Cessna Centurion.  He met a Cardinals season ticket holder from Columbia, Missouri, who only went to about one-fourth of the home games so Anderson bought one-quarter of the tickets from him.  In 2010, the fan from Columbia sold his right to season tickets to Anderson and that's how he became a season ticket holder.
Anderson is not only a Cardinal baseball fan. He's a huge sports fan. Last year, he attended more than 120 games of football, basketball, and, of course, baseball. He is also a scout for the Independence Bowl, a Division I college football bowl game played annually in Shreveport.  In 2011, he attended 18 college football games, four dozen college basketball games, all Arkansas State home and away games, and all St. Louis Cardinal home games including the playoffs and the World Series, except one. He missed that one because there was an ice storm.  "There are only two things that scare me," Anderson said.  "Ice and thunderstorms."  After a pause, he added, "Besides women."
Anderson met his girlfriend Ruby Stone, of Jonesboro, Arkansas, online because he didn't want to date a local woman.  "I figured a local woman would be an LSU fan," he said.  "I wanted a Cardinals fan or Arkansas State fan, my alma mater.  I go to every Arkansas State game."  They met at the October 19th Game 6 of the 2011 World Series.  The weather returning to Jonesboro was dreary with low ceilings and poor visibility.  Ruby was nervous, but the air traffic controllers in the Jonesboro area all know Anderson.  "Tell her I've done this before," he said he told the controllers.  The controller answered, "He has more night landings than anyone around here, and he has more after midnight landings than anyone else, too."
Their first "official date" was dinner at Mike Shannon's Restaurant in downtown St. Louis on November 2, which is also Anderson's birthday.  "Just being there, at Shannon's, being close to the stadium, I was able to relive the whole excitement of the World Series all over again," Anderson said.
Sometimes Stone accompanies Anderson to a Cardinals game; sometimes Anderson's best friend Steve Mitchell, also of Jonesboro, does.  About 90 percent of the time, Anderson flies to Jonesboro or Shreveport right after the game ends.  While he is here in St. Louis, Ideal Aviation Illinois at St. Louis Downtown Airport looks after Anderson's airplane and handles whatever he might need.
Office Manager Kim Luke said, "During baseball season, Jerry Anderson is our most frequent customer and has the most late (night) departures of our regulars.  He's a loyal Cardinals fan and a loyal Ideal customer."
Ideal Aviation Illinois owner Bill Macon agrees.  "He's extremely nice and we all like Jerry," Macon said.
Anderson wouldn't miss the National League Championship Series games in St. Louis this week for anything and will be at today's afternoon game and Thursday's game and Friday's game to cheer on his beloved Redbirds!
Return to Blog