July 28, 2010
Director of ADA Services Pat Hall talks about segregation, rights and breaking down barriers
Return to Blog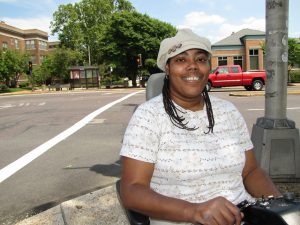 Monday, June 26 marked the 20th Anniversary of the Americans with Disabilities Act (ADA), the civil rights legislation that prevents discrimination based on disability.  The legislation helped make sweeping changes for disabled individuals in the areas of employment, built environment, public transit and other areas.  But for Pat Hall, Metro's Director of ADA Services, the legislation has very personal implications.
Physically disabled since birth, Hall grew up navigating the world built for individuals without disabilities.  During a time when separate schools for children with disabilities were common, Hall attended Normandy High School in St. Louis and even participated in gym class.  After earning two masters, in Rehabilitation Counseling and Rehabilitation Administration, she now heads Metro's ADA Services Department.  The department is responsible for ADA paratransit certification for Metro and our travel training program for people with disabilities, as well as fostering community partnerships and conducting sensitivity training.  Hall feels that the country has come a long way in providing equal access for people with disabilities, but still must work for attitude changes.
Hall recalls a time when she was about 19 years old and waiting for a bus on a Sunday after attending church at Hamilton and Delmar.  "I wasn't using a mobility chair yet then, but I had a stoop and didn't walk normally, and also wore Coke-bottle thick glasses.  While I was waiting, a car slowed down, and a man got out and handed me a bus pass.  Then another guy was walking across the street, and he turned around, crossed the road, and handed me some money.  Finally a woman comes up and talks to me, asking me if I went to school.  I proudly told her I was a sophomore at UMSL.  She blinked her eyes and said, as if she hadn't heard me, 'That's so great! My sister goes to retarded school as well!'"
Hall laughed out loud at the memory of the woman's awkward comment.   "Not every disability is apparent.  Some are physical, some mental.  People will often talk more loudly to me, more slowly, assuming that I might have a cognitive disability as well.  But what they will do is talk to me.  Somebody may feel like they can ignore you, but people tend to have a higher level of empathy for someone with a disability.  People come up and talk to me all the time, open up.  And when you talk to someone, you have a chance to connect and change their perception."
Hall looks back fondly over what she called her "radical advocacy days" before and immediately after the passage of the ADA legislation.  In 1994, she and a group of activists chained their wheelchairs together at the St. Louis Greyhound station to protest that the Greyhound buses were not wheelchair accessible.  "The police had brought down a Call‑A‑Ride van to use as a paddywagon.  Can you believe it?  We were down there protesting that the buses were not accessible, and the police bring in special accessible vans to arrest us!"  She said the protesters were able to hold up the Greyhound buses for several hours.  (Greyhound finally unveiled plans to make buses and stations accessible in 1998 after years of pressure).  Accessibility advocates like Hall helped raise the public awareness of the needs of people with disabilities, paving the way for political support for the ADA and continuing progress.
"People with disabilities used to be incredibly segregated from the rest of the community.  Families would just keep them at home, and even if they wanted to go out, there was no guarantee that they could travel, or even get inside a building.  There used to be no public elevators in many buildings, so they would move you up the freight elevator with the smell and flies.  At the movie theater at Northwest Plaza, they used to wheel us around the side through the back end of the concession stand.  We always had to use the back entrance.  Now, more often, we can enter through the front like everyone else."
If you would like to know more about the Americans with Disabilities Act of 1990, and the rights, opportunities, technology and life of disabled individuals throughout history, please visit the great exhibit at the Missouri History Museum: The Americans with Disabilities Act: 20 Years Later.
And, Hall can often be seen riding the Metro system.  If you see her, I highly recommend stopping to talk to her.
Return to Blog