February 10, 2015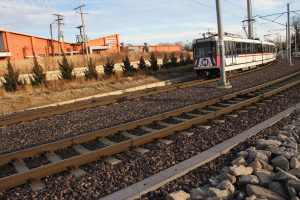 Metro is teaming up with Citizens for Modern Transit (CMT) to encourage everyone to show their love for transit this Friday, February 13, during CMT's first-ever Transit Crush.
From 4 p.m. to 6 p.m., Metro ambassadors, CMT volunteers and players with the St. Louis Football Club professional soccer team will be at select MetroLink stations in Missouri and Illinois to greet riders and hand out Valentine's Day cards that contain information about CMT's Guaranteed Ride Home program.
Participating MetroLink stations include:
5th & Missouri
Central West End
Civic Center
Delmar Loop
Emerson Park
Fairview Heights
Forest Park-DeBaliviere
Grand
North Hanley
Shrewsbury-Lansdowne I-44
Public transit enthusiasts, Metro riders and everyone who has a "transit crush" are invited to meet with the group at any of these stations and join them as they board MetroLink to head to the Central West End for a CMT-hosted happy hour at Tom's Bar & Grill at 6 p.m. All participants must have a valid ticket to ride MetroLink.
If you're not able to attend the event, you'll still be able to participate Friday by posting messages, photos and selfies on Facebook, Twitter and Instagram that show your love for public transit and tagging them with #cmttransitcrush.
CMT's Guaranteed Ride Home program benefits transit riders who use MetroLink and/or MetroBus to get to work by providing a safety net for when the unexpected happens. Through the program, CMT provides a "guaranteed ride home" by cab or rental car in the event of illness, unexpected overtime or a personal emergency, and reimburses 80 percent of the cost of the ride home. Visit CMT's website for more information about the Guaranteed Ride Home program.
Return to Blog
Categories:
Metro Lifestyle