September 9, 2010
The #99 Downtown Trolley is not the only downtown circulator bus that has traveled St. Louis' downtown streets.  Remember the Levee Line?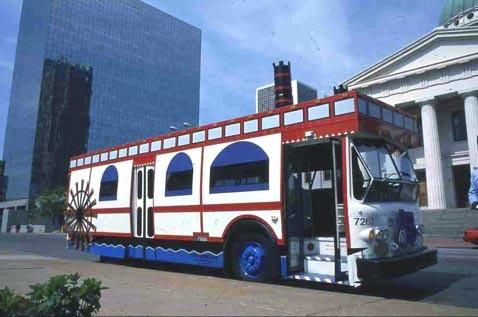 Decked out in a riverboat-inspired design (complete with smokestack) the Levee Line operated in the late 1980s, traveling down Lenore K. Sullivan Boulevard, through Laclede's Landing, up Washington Avenue, looping around 9th Street and Broadway, and rolling up Market Street to Union Station.  The Levee Line served the downtown area and was popular for tourism and conventions.
The Levee Line's riverboat theme was not just a nod to St. Louis' celebrated steamboat history.  In the late 1980s, the Mississippi Riverfront still was home to several riverboats, including: the kids' favorite Riverboat McDonald's; the President Casino; the stalwart of nightlife, the Admiral; and the Towboat Museum. If you grew up in the St. Louis area during that time, chances are you went on a field trip to the Riverfront, with visits to the Arch and one of more of the riverboats.  And maybe you remember taking a ride on the Levee Line.
Do you remember the Levee Line?  Are there are other special Bi-State services that you used to take?
Return to Blog