September 28, 2012
Eads Bridge Lane Closures Begin on Monday, October 1: Take MetroLink to Avoid Traffic Delays
Return to Blog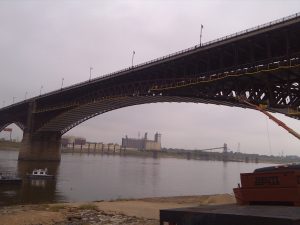 Traffic lane closures begin on the Eads Bridge on Monday, October 1, 2012 to accommodate extensive rehabilitation work on the support structure of the national landmark. To avoid rush hour traffic delays, one option you may want to consider is taking MetroLink to get back and forth from Missouri to Illinois.
With the Eads Bridge restricted to one lane of traffic in each direction starting Monday, motorists who take the Eads Bridge will need to allow extra time for their westbound commutes into Downtown St. Louis and their eastbound commutes into Illinois. Unlike the trip by car from east bank of the Mississippi River to the west bank, the commute by train from the East Riverfront MetroLink Station to the Arch-Laclede's Landing MetroLink Station is only two minutes.
There are several free Park-Ride lots located at MetroLink Stations in Missouri and Illinois so MetroLink passengers can commute to work, school or other destinations without having to deal with traffic on the roads and highways. The location of all 37 MetroLink Stations and train schedules are on Metro's website, or customers can call (314) 231-2345 in Missouri or (618) 271-2345 in Illinois from 7:30 a.m. to 4:30 p.m. Monday through Friday for help planning their commutes.
Lane closures will be in place on the Eads Bridge for the duration of the project. Metro is committed to completing all bridge rehabilitation work by the fall of 2015.
The Eads Bridge, designed by James Buchanan Eads, was completed in 1874 and was the first steel structure bridge project in the United States. Now, after more than a century of use, it is in need of major repairs and a significant facelift. This structural rehabilitation project will replace support steel that dates back to the 1880's. As many as nine layers of paint and rust will be blasted off the bridge down to the bare metal, and then the bridge will be primed with a rust inhibitor, before the protective top coating is applied. Combined with regular painting, the anti-corrosion coating system should extend the life of the bridge another 50 years. After enduring trains crossing the bridge nearly 300 times daily and exposure to the elements for almost two decades, the MetroLink alignment that crosses the bridge will also be upgraded with new rail and ties as part of this comprehensive project.
The City of St. Louis owns the vehicle deck of the bridge while Metro owns and maintains the rail deck and remaining bridge structure.
Return to Blog