July 31, 2014
Early Childhood Education Center to Open Near Wellston MetroLink Station
Return to Blog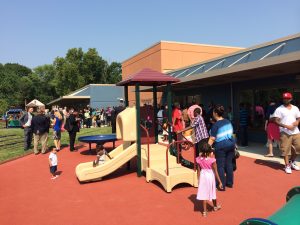 A new early childhood education center is expected to open this fall, just steps from our Wellston MetroLink Station.
Bi-State Development Agency President & CEO John Nations, St. Louis County Executive Charlie Dooley, other St. Louis County and Wellston officials, Mike Downing from the Missouri Department of Economic Development, Carolyn Steward from Family and Workforce Centers of America, community leaders, local children and others got a sneak preview of this transit-oriented development project during a ribbon-cutting ceremony last week.
The Early Explorers Child Development Academy, located at 1232 Robert L. Powell Place, will be operated by the Family and Workforce Centers of America, a Missouri non-profit organization that provides direct services in the areas of youth and adult workforce development, customized skilled training, and individual and family supportive services.
Bi-State Development Agency/Metro contributed a section of the Wellston Park-Ride lot for parking for the center. The #94 Page MetroBus route connects to the Wellston MetroLink Station and will serve the new center.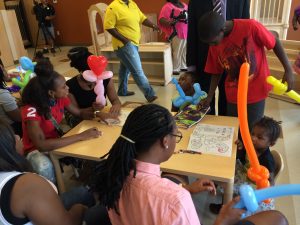 The proximity to the Wellston Station will allow parents to drop their children off and conveniently board MetroLink to head to work or to workforce training right down the street at St. Louis County's workforce training facility, the Metropolitan Education & Training Center or MET.
"The Bi-State Development Agency/Metro is committed to stimulating economic development in the region while improving the quality of life for citizens. One of the ways we do that is by working with communities and developers to realize the benefits of locating businesses and homes near MetroLink stations," said John Nations, Bi-State Development Agency president & CEO. "We are proud to have partnered with St. Louis County on this important project, which will improve the quality of life for residents in Wellston and for our public transit customers."
The academy will accommodate 120 children between six weeks and six years old. Officials expect to begin operations within a few weeks after the accreditation process is completed. It will become Wellston's only licensed, accredited, center-based early childhood education facility.
Former U.S. Senator Christopher "Kit" Bond is credited with securing $3 million in federal Housing and Urban Development funds to construct the center. Additional funding came from the Missouri Department of Economic Development ($2 million), the St. Louis County Economic Council ($500,000) and Archs ($100,000).
Return to Blog
Categories:
Economic Development