June 18, 2013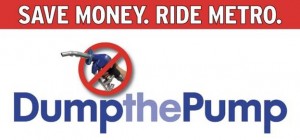 Metro transit announced it will join with other public transportation systems nationwide to participate in the eighth annual National Dump the Pump Day on this Thursday, June 20. The slogan of this year's National Dump the Pump Day is "Dump the Pump. Save Money. Ride Transit."
Sponsored by the American Public Transportation Association (APTA), the 2013 National Dump the Pump Day is a day that encourages people to ride public transportation and save money, instead of driving their cars. This national day emphasizes that public transportation is a great travel option that also helps people save money.
Saving money is on everyone's minds and public transportation is the quickest way to beat high gas prices. According to the latest APTA Transit Savings Report, individuals in a two-person household can save an average of more than $9,700 annually by downsizing to one car. You can find out how much you can save by putting your information into the fuel saving calculator.
Metro employee ambassadors will be at select Metro Transit Centers during the Thursday morning commute to thank our customers and to hand out Dump the Pump bookmarks.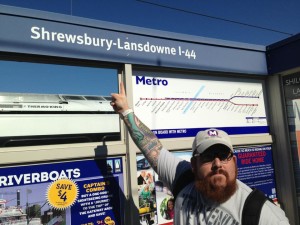 The locations are: Riverview Hall MetroBus Transit Center, Shrewsbury Lansdowne I-44, Brentwood I-64, Forest Park-DeBaliviere, Clayton, Fairview Heights, North Hanley, Central West End and Civic Center Transit Centers.
Then on Thursday afternoon from 4-6 p.m., "Tony Transit" Patrico from KPNT 105.7 FM The Point will ride MetroLink giving away $50 Visa gift cards and other prizes donated by Citizens For Modern Transit (CMT). To be eligible for one of the prizes, you must follow Tony on Twitter @PatricoWAR.
Return to Blog