January 10, 2013
Elementary Students Produce Awesome Exhibit For Gateway Arch's Museum Of Westward Expansion
Return to Blog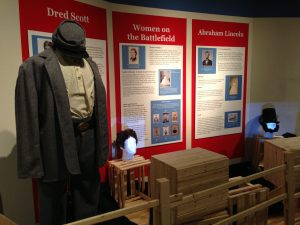 The new exhibit at the Gateway Arch's Museum of Westward Expansion and its creators may surprise you.  Maplewood Richmond Heights Elementary School students put together the special exhibit, and it's really extraordinary.
The second through sixth grade students recently had a unique opportunity to learn about the roles and functions of National Park Service museum personnel. The 426 students learned how museum employees collect, preserve, document, exhibit and interpret museum artifacts.
Their experiences were documented through a multifaceted exhibit they created, called "School as Museum." The exhibit features artifacts, student representations of historical figures and a lot of creativity.
Students from each grade level were challenged to develop class exhibits on collection of artifacts, exhibiting artifacts, preservation, documentation and interpretation of artifacts.
"The complete 'School as Museum' exhibit represents a great achievement for our students, and we are so proud of the work they've done," said Jason Adams, Principal of Maplewood Richmond Heights Elementary School.
To say I was impressed by these young students' work would be an understatement. The exhibits were fun, interesting and exciting! Can you believe there were talking video projections of historical figures?!
The educational partnership was created by the National Park Foundation through its "America's Best Idea" grant program, which works to fund park projects designed to connect diverse populations nationwide with their national parks in innovative and meaningful ways. The Jefferson National Expansion Memorial was one of 49 parks across the U.S. to receive an "America's Best Idea" grant in 2012.
You need to get going if you want to check out the exhibit for yourself. It is on display through this Sunday, January 13. The Museum of Westward Expansion below the Gateway Arch is open during normal business hours and the exhibit is completely free!
Metro operates the Gateway Arch Revenue Collections Center, the Gateway Arch Transportation System (trams), the Gateway Arch Parking Facility and owns and operates the Gateway Arch Riverboats.
Return to Blog