September 10, 2012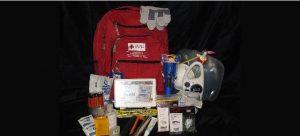 It may seem like disasters only happen in other places– that they won't happen in our neighborhood, but they can. Power outages, fires, severe weather, flooding, tornadoes, earthquakes, and other disasters can and do occur throughout the Bi-State area and it is important that we are prepared to face all kinds of emergencies.
September is National Emergency Preparedness month and Metro has teamed up with All Ready STL to help our customers and area residents learn how to best prepare for emergencies and disasters whether they happen when you are on transit, at home, at work , or somewhere in between.
It is especially important to make an emergency plan and to put together a emergency kit so you and your family can survive after a disaster because it may be several days before emergency responders can get to you.  An emergency kit is an essential part of being prepared for an emergency or disaster, and you can enter for a chance to win one of four Red Cross Emergency Preparedness Kits by contacting Metro.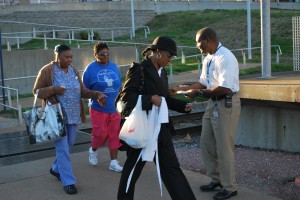 Metro volunteers distributed emergency preparedness information to customers at several of our busiest public transit locations today, but anyone can still register online or mail your name, phone number or your email address to Metro, 707 N. 1st Street, Mailstop #146, St. Louis, MO  63102. You are limited to one entry. Entries are due by noon on September 27 and the drawing will be held on September 28. Winners will be notified by phone or email.
No one wants an emergency to come to their door, but we should all be ready.
Return to Blog