December 22, 2014
Emerson Park MetroLink Station Development Spurs Economic Success
Return to Blog
Jazz at Walter Circle is a big deal for East St. Louis. "It's changing East St. Louis in a real positive way," said Jimmie Taylor, an employee of the grocery store located on the ground floor of the building.
The $22 million mixed-use senior apartment complex was funded through a public-private partnership between the East St. Louis Housing Authority, Special Purpose Entities (SPEs) created for the development and investors. The building, adjacent to our Emerson Park MetroLink Station, was developed as post-workforce housing and gives retired seniors with reduced incomes access to a comfortable living environment with convenient amenities.
Construction began in May 2011 and the first residents started moving in September 2013. The residential units are now fully leased and tenants range in age from 62 to 94.
---
Multimedia: Scroll down to tour the inside of the senior apartment complex and grocery store.
---
"Jazz at Walter Circle is not only a beautiful structure and one of the most innovative transit-oriented developments on our system, it's also a great example of the public and private sectors working together to make a positive impact in our communities," said John Nations, president and CEO of the Bi-State Development Agency.
East St. Louis Mayor Alvin Parks Jr. said the project is the perfect blueprint to apply to other nearby MetroLink stations, such as the East Riverfront, 5th & Missouri and Jackie Joyner-Kersee Center MetroLink Stations. "It's just a wonderful place to be," he said. "If we did it at Emerson Park, why can't we do the same thing in downtown East St. Louis?"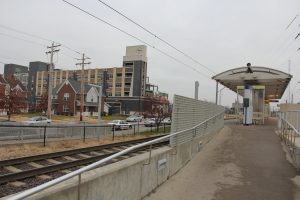 The 74-unit mixed-use apartment building offers more than 100,000 square feet of floor space. The on-site full service grocery store, Jazz Ensemble Market, occupies more than 5,000 square feet. The complex also has space available to accommodate future growth and additional amenities, including cafe, beauty shops and medical offices. A community hall, featuring local artwork, is also available.
Keonja Holmon, asset manager for the building's owner, Eco Jazz Inc., said the proximity to public transportation adds value to the development and enriches the surrounding community. "Our main goal is to provide a healthy way of life for our tenants and customers," Holmon said. "When you've got MetroLink passengers who can access fresh fruit at the market, they don't have to make another stop on their way to work, while they can equally stop by at lunch for their deli and soup, and complete their full grocery shopping after work. It's a one-stop shop."
Easy access to transportation was the main reason why Susie Crisp moved into Jazz at Walter Circle last December. "Living here, I can get on the train or the bus and go wherever I want to go," Crisp said. After working 44 years in the health care industry, Crisp, 65, is still offering comfort to her clients, and is able to live independently and maintain an active lifestyle.
"Nobody really has to worry about me," she said. "It's easy for me to go and do things."
Keith Luther, manager of the Jazz Ensemble Market, said he sees about 200 customers come into his doors on an average day. The grocery store offers fresh produce and deli options as well as a cafe, fireplace, TV and free wireless internet. The nonprofit grocery store employs 25 workers, and 24 of them live near the store.
"People are coming here from outside of East St. Louis and stopping in," Luther said. "In the last month, we've seen people from Chicago, Texas and even as far away as Australia. That's unheard of in East St. Louis."
Return to Blog
Categories:
Economic Development