July 12, 2012
Express Your Creativity in the 2013 Poetry in Motion Contest
Return to Blog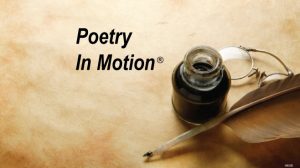 Do you like to write poems and live within a 50-mile radius of the City of St. Louis? If so, think about entering the 2013 Poetry in Motion contest, sponsored by Metro Arts in Transit and the Poetry Society of America. You have until September 24 to enter your poem.
Fifteen winning poems will be showcased on MetroLink trains and MetroBus vehicles for up to one year. Winners will read their poems at a special ceremony on Nov. 29, 2012, at the Regional Arts Commission. Plus, each winner gets $50.
Learn more about the contest and print an entry form by visiting the Arts in Transit website.  Mail or hand deliver entries to Metro Arts in Transit, 707 N. First St., St. Louis, MO 63102, Attn: PIM 2013. Email and fax entries will not be accepted. Submissions must be received, not just postmarked, no later than 5 p.m. on September 24.
The names of the winning poets and their poems will be posted on the Arts in Transit website.
The Metro Arts in Transit program has sponsored various poetry and literacy contests over the past 20 years. The 2013 Poetry in Motion contest receives financial support from the Regional Arts Commission and the Missouri Arts Council.
Launched in 1992 by the Poetry Society of America and the Metropolitan Transportation Authority in New York City, Poetry In Motion aims to create a national readership for both emerging and established poets while making bus and subway rides more enjoyable.
Return to Blog