July 3, 2013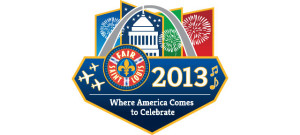 Metro transit is a great transportation option for Fair Saint Louis visitors, workers and volunteers who want to avoid traffic congestion, street closures, and parking issues in downtown St. Louis.
Extra MetroLink trains will be running to accommodate the large crowds at the annual celebration on Thursday, July 4, Friday, July 5, and Saturday, July 6.  To accommodate Fair Saint Louis customers, on all three days of the Fair — July 4, 5, and 6, MetroLink will provide additional service. Beginning at 6 p.m. through the end of the fireworks, MetroLink will operate additional trains. Extra MetroBus vehicles will be put into service after the fireworks show, if needed. In the event of a work stoppage by Metro operators, there will be no MetroLink or MetroBus service.
Metro transit will operate on a Sunday schedule on Thursday July 4, with MetroLink providing 20-minute service on the Red Line and Blue Line. MetroLink and MetroBus will operate on a normal weekday schedule on Friday, July 5. Metro transit will operate on a normal Saturday schedule on July 6, with 20-minute MetroLink service.
Metro employees and ticket agents will be at select MetroLink stations along the system to assist customers on all three days of the fair. Customers are encouraged to purchase round trip tickets to help cut down on delays in their return trips.
As a reminder no food or drinks are allowed on MetroLink trains and MetroBus vehicles, and possession of alcoholic beverages is prohibited on Metro property.  There will be additional security and police throughout the Metro transit system to help ensure safe and enjoyable trips.
Long lines are expected at the downtown St. Louis MetroLink stations after the fireworks show each night and even larger crowds are anticipated on Friday night because baseball fans and fairgoers may be exiting downtown St. Louis at the same time. Metro employees, public safety officers and police officers will be working hard to safely and efficiently transport customers out of the downtown area as quickly as possible. We ask for your patience as we coordinate the boarding of trains. We also ask that you are respectful of others in line, on the crowded trains, and to the Metro employees, public safety officers and police officers who will give you directions on when you may board.
Due to the Freedom 4 Miler and Family Fun Run and the Veiled Prophet Parade the morning of July 4, some downtown MetroBus routes will be detoured. Specific information about the reroutes can be found in the Rider Alerts area of our website. Customers should look for reroute signs at affected bus stops in downtown.
In St. Louis County, fairgoers may park free in the park-ride lots located at the North Hanley, USML South, Rock Road, Wellston, Delmar Loop, Delmar Loop, Shrewsbury-Lansdowne I-44, Forest Park-DeBaliviere, and Brentwood I-64 MetroLink Stations. In St. Clair County, fairgoers may park free in park-ride lots located at the East Riverfront, 5th & Missouri, Emerson Park, Washington Park, Fairview Heights, Memorial Hospital, Swansea, Belleville, College, and Shiloh-Scott MetroLink Stations.
The Arch Parking facility is also available for fairgoers. It is located on Washington Avenue south of Memorial Drive on the north end of the Gateway Arch grounds.    Additional information about MetroBus or MetroLink service is available on our website or by calling Metro Transit Information, Monday through Friday from 7:30 a.m. to 4:30 p.m. From Missouri, dial (314) 231-2345 or from Illinois call (618) 271-2345.  Please remember Transit Information will be closed on July 4th.
Return to Blog