October 25, 2013
Extra MetroLink Service for World Series Games & Monday Night Football
Return to Blog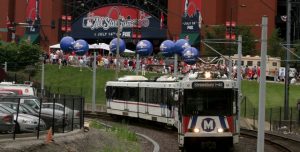 Updated at 4:45 p.m.– For the safety and protection of all Metro transit customers, baseball and football fans are advised against bringing coolers, large packages or large bulky items on MetroBus vehicles or MetroLink trains as they head to rallies, World Series Games 3, 4, and 5, and the Monday Night Football game. Any suspicious packages or containers are subject to search. All weapons including firearms are prohibited.  Alcoholic beverages and all other beverages, as well as food are also not allowed on Metro vehicles.  
Baseball fans who want to avoid the traffic jams before and after the World Series games Saturday through Monday (October 26-28) should consider taking public transit. Football fans should also consider Metro as they head to the St. Louis Rams game on Monday evening. Metro will have additional staffing to monitor MetroLink platforms and assist crowds, and will provide extra service before and after the games.
Free Park-Ride lots are located next to many of the MetroLink stations in Illinois and Missouri which makes it convenient to take a train to the Stadium Station or to another nearby station in downtown St. Louis to get to the games. Fans who may not know which MetroLink Park-Ride lot is the closest to where they live can check and plan their trips by going to our website and using the Trip Planner feature.
Return to Blog