June 10, 2011
Extra MetroLink Service Planned for Komen Race for the Cure Saturday, June 11
Return to Blog
Additional MetroLink trains will be in service tomorrow, June 11, 2011, from 5 a.m. to noon to accommodate the large number of participants expected at the Komen St. Louis Race for the Cure in Downtown St. Louis. The Red Line and Blue Line MetroLink trains will run every 15 minutes, resulting in a train stopping between the Forest Park-DeBaliviere and Fairview Heights stations every 7.5 minutes. Last year, St. Louis had the largest Komen race in the United States!
Extra ticket agents will be at the North Hanley, Delmar, Forest Park, Central West End, Clayton, Brentwood, Shrewsbury, Civic Center, East Riverfront, 5th & Missouri, Fairview Heights, Swansea, Memorial, College, and Shiloh-Scott MetroLink Stations to assist customers.
Several MetroBus routes will be affected by street closures starting at 4 a.m. tomorrow because of the Komen St. Louis Race for the Cure events. Temporary reroutes have been established for the following MetroBus routes: #70 Grand, #99 Downtown Trolley, #74 Florissant, #94 Page, #97 Delmar, #04 Natural Bridge, #10 Gravois-Lindell, #11 Chippewa, #30 Soulard, #32 ML King-Chouteau, and the #41 Lee.
Starting at 8 a.m. tomorrow morning, MoDOT will close all  westbound lanes of Interstate 64 from the Poplar Street Bridge to 21st Street near downtown St. Louis for construction. Due to the increased traffic and road closures, public transit is a great option to avoid congestion and delays.
Be on the lookout for special Metro Komen polo shirts! Employees were given the option to purchase and wear special pink ribbon Metro polo shirts for the day of the Komen race. Many operators participated to show their support for St. Louis participants and their families. Metro employees also have a large team ready to run and walk for breast cancer awareness. We'll see you at the race!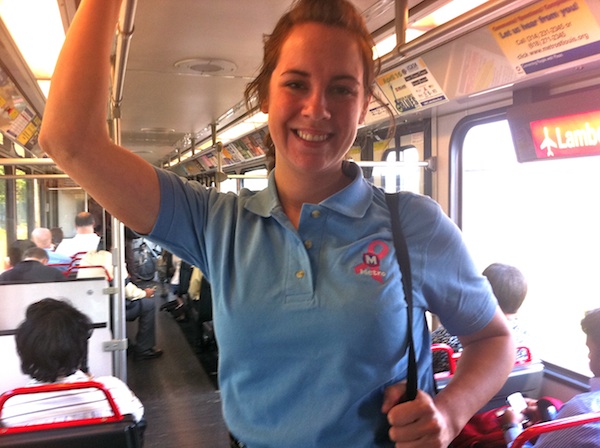 Return to Blog