July 4, 2016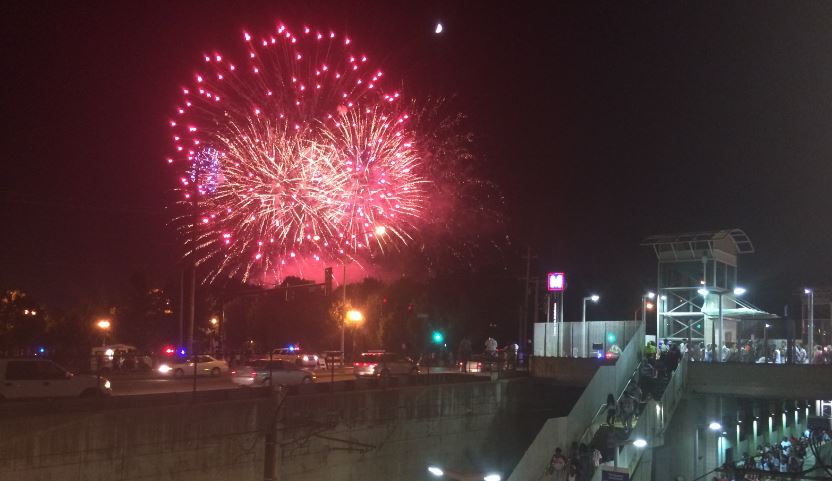 Happy Fourth of July, St. Louis! Celebrate America's birthday by heading to Forest Park for Fair Saint Louis. Remember, Metro transit is a great option for those who are looking for a safe and convenient way to get to the festivities.
Fair Saint Louis opens to the public at 1 p.m. on Monday, July 4. Dirty Muggs will be the first musical act of the day, performing on the Budweiser Stage at 3:10 p.m. Here Comes the Mummies, a funk band best known for its live performances, will perform at 4:40 p.m., followed by George Clinton & Parliament Funkadelic at 6:25 p.m. Fair Saint Louis will wrap up its concert series with American hip hop artist Flo Rida at 8:10 p.m. The Enterprise Rent-A-Car/Edward Jones fireworks show are scheduled for 9:30 p.m.
Take Metro to Fair St. Louis
Park your car at one of our Park-Ride lots and take Metro to see your favorite bands perform. Passengers can park at any of 20 free Park-Ride lots at MetroLink stations in Missouri and Illinois where more than 10,000 free parking spaces are available. Locations with large numbers of free parking spaces include the North Hanley MetroLink Station with 1,700, the Brentwood I-64 Station with 900, Fairview Heights Station with 850, Emerson Park Station with 800 and Shrewsbury-Lansdowne I-44 Station with 800. Please note that the Park-Ride lot at the Forest Park-DeBaliviere MetroLink Station will be closed during the fair.
Metro will provide additional MetroLink service on Monday starting at 6 p.m. until after the fireworks conclude. Fairgoers taking MetroLink are encouraged to use one of two designated stations to access Fair Saint Louis. Both stations are approximately a half-mile from fairground entrances. To minimize wait times and to speed up the process of getting large crowds back home after the fireworks end each night:
Blue Line

 passengers are encouraged to head to the Skinker MetroLink Station

Red Line

 passengers are encouraged to go to the Forest Park-DeBaliviere MetroLink Station.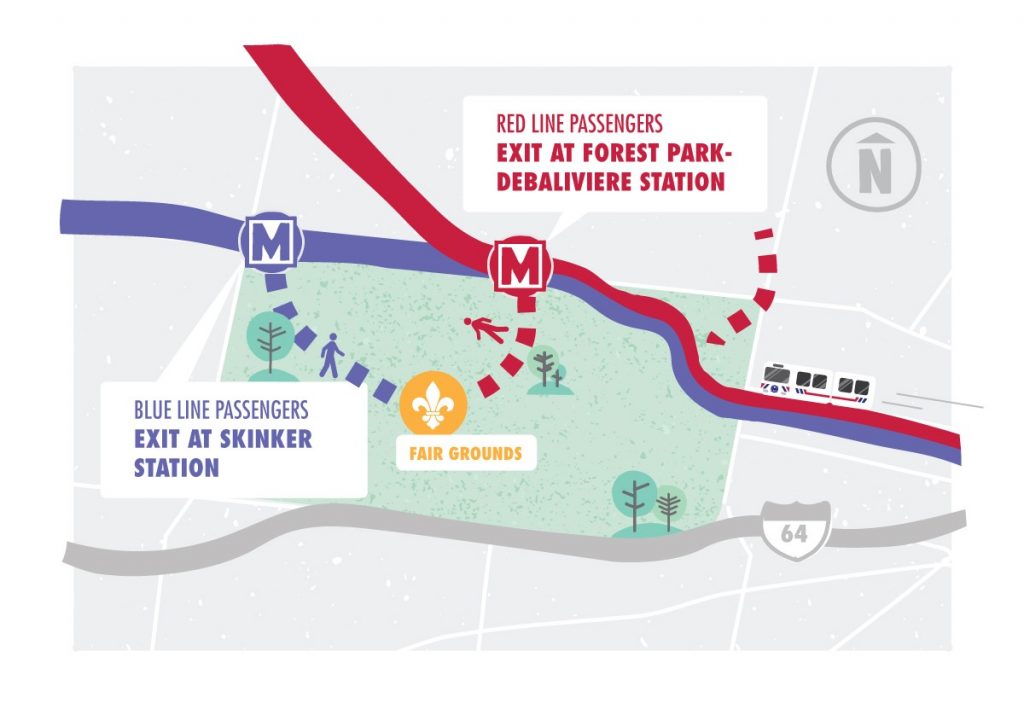 As a reminder, there is no eating, drinking or smoking (including e-cigarettes) allowed on Metro vehicles or on Metro property. For those bringing strollers on the MetroLink, please be prepared to fold them up before boarding the train. Alcohol and firearms are prohibited on Metro vehicles and Metro property, and no alcohol or coolers are allowed at the fair. Pets are not permitted on Metro vehicles, except for service animals.
Return to Blog
Categories:
Metro Lifestyle