March 10, 2021
Fighting COVID-19: Next Generation Sanitizers at Metro Transit
Return to Blog
Antimicrobial technology provides riders and transit operators added protection against COVID-19.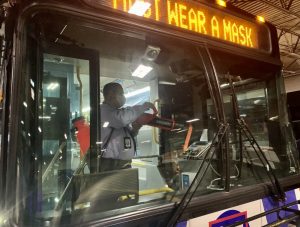 Protecting the health and safety of frontline team members and riders is our top priority, but it has never been more important than over the last year. Some of the steps we have taken to keep moving the region safely are:
Early adoption of face mask mandates
Launching special operating plans
Adding enhanced disinfecting programs
Providing personal protective equipment like masks, gloves and cleaning supplies for team members
Designing and installing onboard barriers around the vehicle operators
Adding contactless, mobile ticketing
Securing vaccines for employees to minimize the spread of COVID-19
Our latest safety measure focuses on innovative antimicrobial technology that will significantly reduce the spread of harmful bacteria, viruses and other germs.
For eight months, Metro Transit has been researching and testing new sanitizing products that offer a microbe shield as added protection against COVID-19. On March 15, Metro Transit will officially begin putting that new antimicrobial technology into use to dramatically reduce the spread of harmful bacteria and viruses on transit vehicles.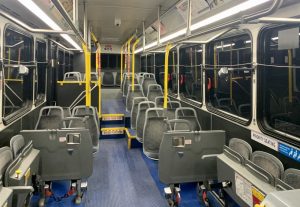 These new products are revolutionary in that 20 minutes after they are applied through a fogging device, a protective barrier forms on treated surfaces that lasts up to 30 days, inhibiting the growth of microbes. It is equally effective on steel, chrome, plastics, glass, and LCD screens. The products are water-based, alcohol-free and free from dangerous chemicals. We will continue nightly cleaning protocols to keep the MetroLink trains, MetroBus vehicles and Metro Call‑A‑Ride vans looking sharp inside and outside. The routine nightly cleanings will not affect the microbe shield barrier or the 30-day effectiveness of the new sanitizing products.
"This technology is a game changer, and we are thrilled to introduce this innovative sanitizing solution to better protect our riders and team members during this ongoing global health crisis." – Taulby Roach, President and CEO of Bi-State Development.
Metro Transit continues to research and pursue the newest practices and advances for COVID-19 mitigation strategies so that you can remain confident that you will have a safe, comfortable and convenient commute on the transit system.
Before you ride, here are some quick reminders to keep you and our team members safe:
Federal mandate requires everyone to wear a mask on Metro Transit. Protect other riders and our team members — wear a mask while you're riding, on a MetroLink platform, or waiting for your bus.
Whenever possible, practice social distancing when riding or when waiting at your stop.
Wash your hands regularly, or use hand sanitizer.
Don't ride if you are feeling ill.
Stay updated on all service and operations updates in response to COVID-19 here: metrostlouis.org/health.
Return to Blog
Categories:
COVID-19