April 21, 2014
Fire Chief Mike Mavrogeorge Shares His Experience and Expertise With Various Organizations
Return to Blog
While Mike Mavrogeorge is the fire chief and emergency management director at the St. Louis Downtown Airport, those are not the only titles he holds.
In fact, the chief is very active in many professional and civic organizations. He serves as a director on the executive board of the Illinois Fire Chiefs Association; teaches leadership, management and response to weapons of mass destruction and hazardous materials emergencies for the University of Illinois Fire Service Institute; is the co-chairman of the Illinois Mutual Aid Box Alarm System's Incident Management Committee; is a member of the Missouri Region-C Incident Management Team; and has been appointed by the Illinois State Fire Marshal to the State Certification Advisory Committee to review and develop new requirements for airport firefighters.
As if that wasn't enough, in April 2013, Mavrogeorge was elected as a trustee (alderman) for the Village of New Baden, Ill.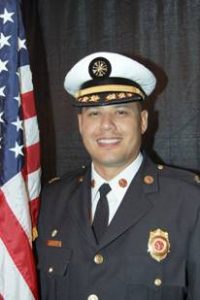 Mavrogeorge became fire chief at St. Louis Downtown Airport in 2008, before there even was a fire department in place there. Then Airport Director Bob McDaniel gave him a tall order to fill – have an airport fire department in operation within 90 days in order to meet requirements of the Federal Aviation Administration. Exactly 90 days later, on July 28, 2008, the St. Louis Downtown Airport Fire Department became fully operational.
"I am most proud of being part of building the fire department at the airport," he said. "It was a monumental task and we have come such a long way."
He was instrumental in obtaining grants for many upgrades at the fire department. Since he started, the fire department has received $750,000 in funding for a new fire truck, $5 million in funding for the fire station, $30,000 for specialized hazardous materials monitoring equipment, $30,000 in radiation monitoring equipment, $26,000 for new portable radios and $2,000 for firefighting protective clothing.
With these enhancements, the department has become a regional leader for training and public education.
"Our Emergency Operations Center is utilized by state and federal agencies," he said. "We host a large volume of training classes every year for fire,  police and medical personnel from around the country."
While the fire department provides important educational opportunities to regional agencies, he said learning can't be contained in the walls of the firehouse nor should it. That's one of the reasons Mavrogeorge is involved in so many different organizations. His involvement helps more people and brings recognition to the Bi-State Development Agency and to the airport fire department which is an important asset to the region.
"If you want to make the biggest difference possible, you must be active," he said.
St. Louis Downtown Airport and its surrounding industrial business park is owned and operated by the Bi-State Development Agency. 
Return to Blog