November 7, 2016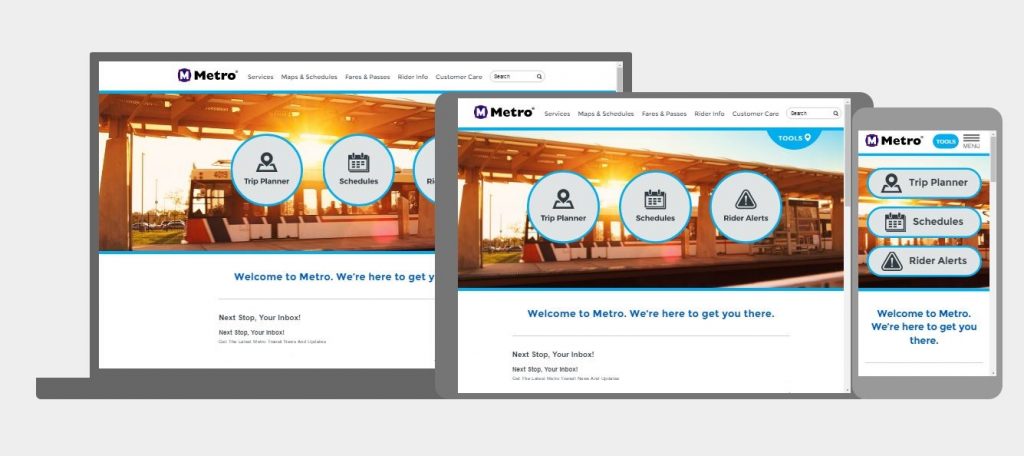 It's almost here. The all new Metro transit website is coming your way.
The new site will make it easier for you to get all the information you need to easily navigate the Metro transit system, no matter where you are or from what device you're using. Here are a few features the new website will offer:
Responsive Design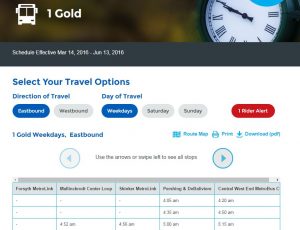 Accessing transit information, schedules and news has never been easier. The new website's responsive design perfectly adopts to the screen you're using – so, if you're on your phone or tablet, you won't have to pinch and zoom. It's built for mobile, and ready to go when you're on the go.
---
Streamlined Navigation 
The new website was designed with you, the Metro rider, in mind. We've streamlined the navigation so it's even easier for you to find the information you need by focusing on what matters most: getting you to your destination. We've limited the top menus to only highlight transit information like maps, schedules and fares. We've also included a "tools" feature  on every page that includes the most important resources – Trip Planner, Schedules, Rider Alerts – so you can get the information you need no matter what page you're on.
---
Information Where You Need It
With the new website, there's no need to jump around to find the information you need or download PDF schedules. The new site features web-based timetables for MetroLink and every MetroBus route, and you'll be able to see any Rider Alerts about a particular route on the same page.
---
The Blog Gets A New Home
NextStop, Metro's official blog, was previously hosted outside of Metro's main website. Not anymore. NextStop is now a part of the new Metro website, providing you all the latest news, features and events Metro has to offer.
---
Stay tuned as we get the final pieces in place to launch the new Metro website later this week.
Return to Blog