October 18, 2013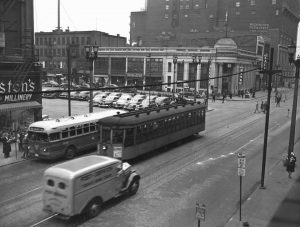 Flashback Friday time!
Can you guess the year and location of this week's Flashback Friday transit photo?
Washington Avenue at 4th Street in 1942 with a very old streetcar and a modern bus. Note the St. Louis Post-Dispatch truck at  bottom left and the Missouri Athletic Club building at top right.
Photo courtesy of Joe Sonderman. Check out his great historical books here.
Return to Blog
Categories:
Flashback